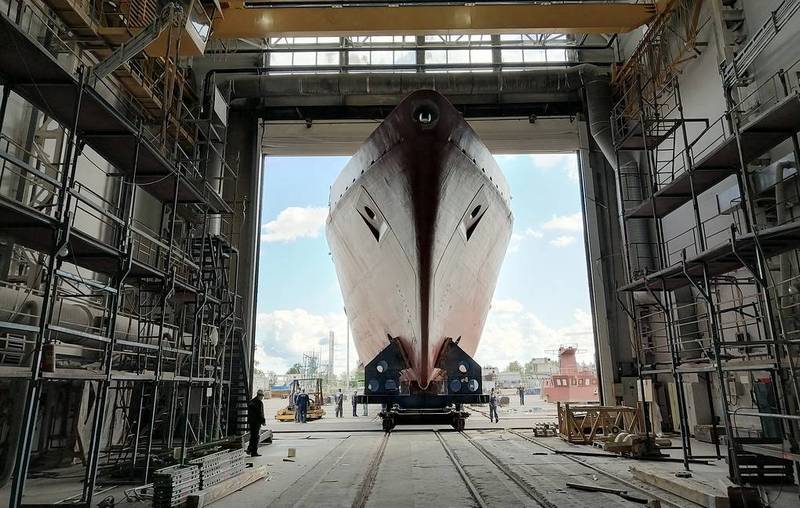 At the Sredne-Nevsky shipyard, the minesweeper under the project 12700 Georgy Kurbatov was removed from the workshop. This was reported by the press service of the enterprise.
An operation was carried out to withdraw from the workshop a mine defense ship (PMO) project 12700 "George Kurbatov"
- said in a statement.
According to the press service, in June the minesweeper completed work on forming the hull and part of the ship's superstructure, saturating them with systems and mechanisms. All further work will be carried out outside the workshop; launching of the ship is planned in September.
During the completion of the construction work, it is necessary to complete the formation of the superstructure of the minesweeper, to carry out the installation of the tower-mast device, antenna equipment and general ship systems.
"George Kurbatov" is the first production minesweeper of the project 12700, laid down after the lead ship of the series "Alexander Obukhov". The body was poured on February 26, 2015, and the official bookmark on April 24, 2015. The launch was scheduled for September 2017, but on June 7, 2016, a fire occurred on the ship, affecting about 600 square meters. meters. The fire significantly damaged parts of the casing of both sides above the upper deck, the deck of the forecastle, part of the VP deck with its reinforcing set, and other connections between the 10th and 90th frames. After that, it was decided to postpone the construction of the ship.
Minesweepers of the 12700 project are able to use the latest hydroacoustic stations located both on the ship itself and on remote-controlled and autonomous underwater vehicles, and they have an automated mine action control system. Able to use traditional and traditional weapons. The ships of the Alexandrite series have a unique hull made of monolithic fiberglass, formed by vacuum infusion.
The 12700 project was developed by the Almaz Central Marine Design Bureau for the Russian Navy. These mine defense ships have a displacement of about 890 tons, the length is 62 meters and the width of 10 meters, the crew has 44 man.