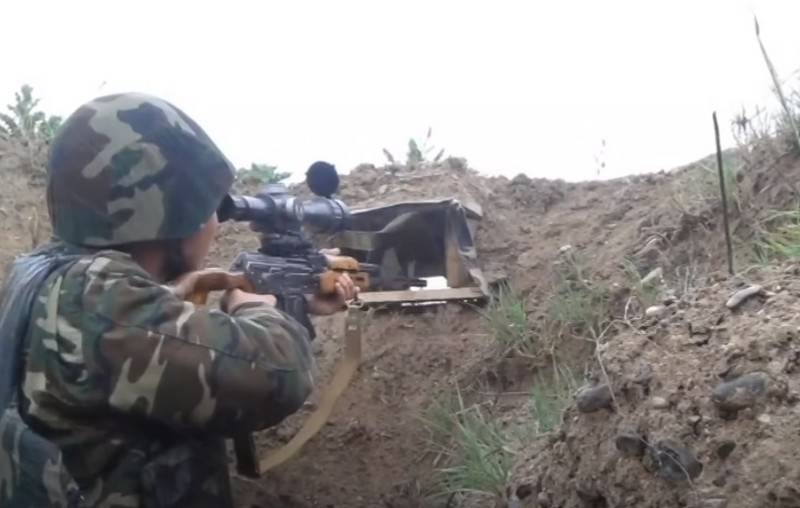 On the border of Armenia and Azerbaijan, hostilities resumed. The parties continue to accuse each other of escalating the conflict.
According to the press service of the Azerbaijani Defense Ministry, hostilities resumed on the Tovuz direction of the Armenian-Azerbaijani border. According to the Azerbaijani military, in the morning hours the Armenian armed forces tried to attack the positions of the Azerbaijani army, firing from large-caliber
weapons
and mortars in the villages of Agdam, Dondar Gushchu and Vahidli of the Tovuz region.
In the morning hours of July 16, the Armenian Armed Forces again tried to attack units of the Azerbaijani army in the direction of the Tovuz district of the state border. There are no casualties among the civilian population. Currently, there are fights in this direction. Our divisions control the operational environment.
- said the Ministry of Defense of Azerbaijan.
In turn, the Armenian Ministry of Defense accused the Azerbaijani armed forces of a nightly attempt to infiltrate saboteurs on the positions of the Armenian army.
At night at 03:40, Armenian soldiers noticed the enemy's movement. Passing to the all-round defense, the Armenian units stopped the attempt of sabotage penetration of the enemy. After fierce fighting, the enemy, having suffered losses, was driven back
Shushan Stepanyan, spokeswoman for the Armenian Ministry of Defense, said, adding that at 05:20, Azerbaijani units began shelling the border villages of Aygepar and Movses with mortars and howitzers D-30.
According to the report, the Armenian military during the fighting on Thursday knocked out a tank of the Azerbaijani army and crushed enemy artillery points.
The Ministry of Defense of Azerbaijan reacted to this message and stated that all
Tanks
Azerbaijani army intact and in service. According to the chief of the press service of the Ministry of Defense of Azerbaijan, Colonel Vagif Dargyakhly, Azerbaijan did not advance tanks to combat positions in the area of ​​armed conflict.
This is misinformation. All Azerbaijani tanks are safe and sound. Armored vehicles of the Azerbaijani Armed Forces are not at the forefront. Azerbaijani tanks out of range of enemy units
- he said.
In addition, the Ministry of Defense called the message of the Ministry of Defense of Armenia about 13 Azerbaijani drones allegedly shot down by the Armenian military from the beginning of hostilities on July 12 a misinformation.