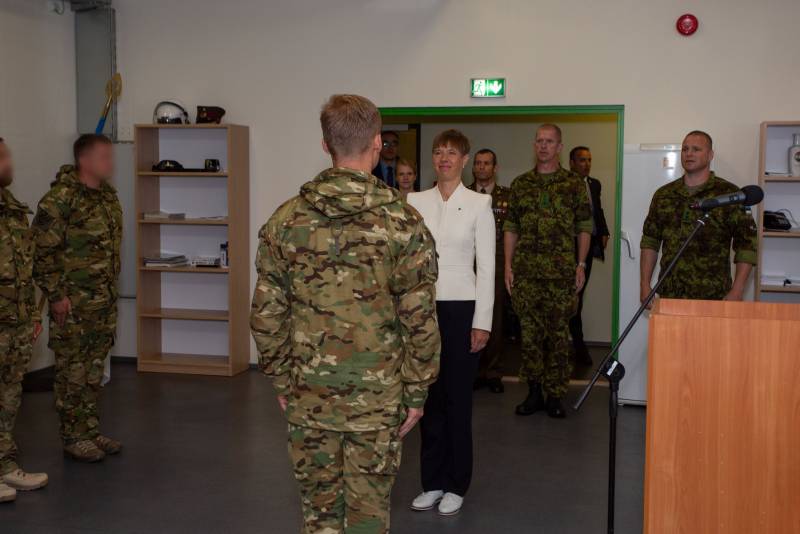 In a white jacket - President of Estonia Kersti Kaljulaid
The German edition of Die Welt published an interview with Estonian President Kersti Kaljulaid. Traditionally, the head of the Baltic state could not avoid the Russian theme. Kaljulaid was asked whether it is necessary to react to the deployment of "Russian nuclear missiles capable of hitting targets in Europe?"
According to the President of Estonia, Tallinn has to react to Russia's actions, since "Russia is an unpredictable partner." And this response is being carried out by Estonia, including in the format of the North Atlantic Alliance.
Kaljulaid:
If we have an unpredictable partner, then we need to be ready for anything.
The Estonian President was asked whether the sanctions that the European Union imposed against Russia in 2014 after the annexation of Crimea were not useless.
Calling this annexation an "occupation", Kaljulaid said that in such cases one should "have patience." According to her, "the occupation of Estonia by the Soviet Union lasted 50 years, but in the end it ended."
In her interview to the German media, Kersti Kaljulaid stated that she does not support the German policy on the construction of the Nord Stream 2 gas pipeline. According to Kaljulaid, if the country (Germany) is 70 percent dependent on gas supplies from Russia, then it will cease to meet the goals of the European Union.
We are talking about "goals" for the so-called Third Energy Package with "diversification" of supplies. Only diversification in Europe is increasingly understood as a transition to the supply of expensive LNG from the United States. And it is precisely such European states as Estonia and its Baltic neighbors who are actively advocating for such supplies, frankly expressing not their own opinions and interests, but the views and interests of Washington.