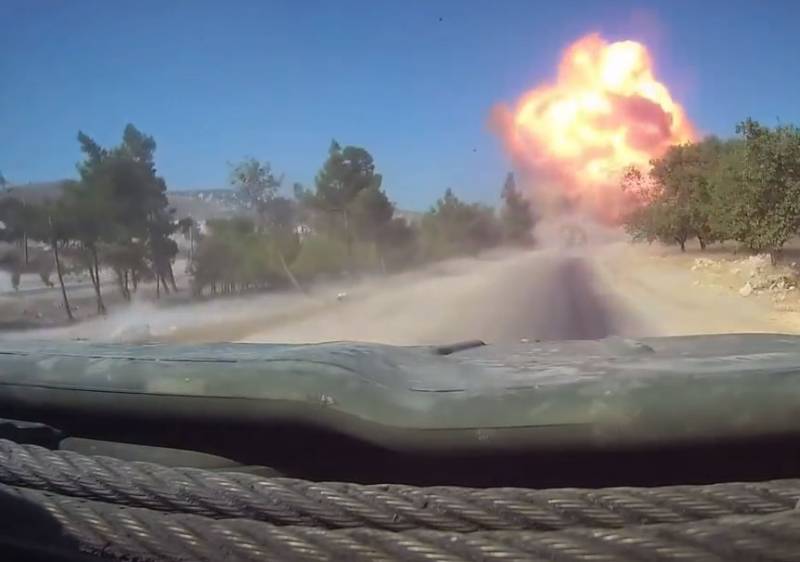 From Syria, reports have come that the Russian Air Force conducted a new operation against militants in response to an attack by a Russian convoy.
Recall that the attack on the Russian-Turkish military patrol occurred on July 14.
The shooting, which was conducted by a video fixator on one of the armored vehicles, shows how an explosion occurs along the route of a patrol.
The explosion was a suicide bomber, who became close to the first patrol car in a white car stuffed with explosives.
As a result of the attack, according to official sources, three Russian servicemen were injured. These are representatives of the military police from Ingushetia.
A video of a detonation from a different angle, from which one can judge the high power of an explosive device:
The foreign media reacted to the attack that the militants carried out against the Russian military. The German press says that there is a long way to peace in Syria and that militant attacks will continue until the countries involved in the Syrian war reach workable agreements.
The Turkish media said that several Turkish soldiers who participated in the joint patrol were injured. The severity of their injuries is not reported.
In the United States, meanwhile, the statement of the country's special representative for Syria, James Jeffrey, was published. According to him, "the United States does not seek the departure of Bashar al-Assad and do not limit the military presence of Russia in Syria." Washington argues that the main goal of the US military presence in the SAR is "the fight against international terrorism." This fight looks very strange, especially when you consider that the bulk of the American contingent in Syria is concentrated on oil facilities in the east of the country.
The Iranian media noted that the undermining of the patrol is a clear provocation of the forces behind the militants, designed to re-escalate the conflict.
The Chinese media publish materials saying that the attack on the Russian patrol in the SAR was carried out in coordination with the militants who set them such a task. The moment was chosen when the patrol was not accompanied by helicopters, as well as when passing the convoy through the village. About who exactly could set the task of attacking the patrol is not reported.