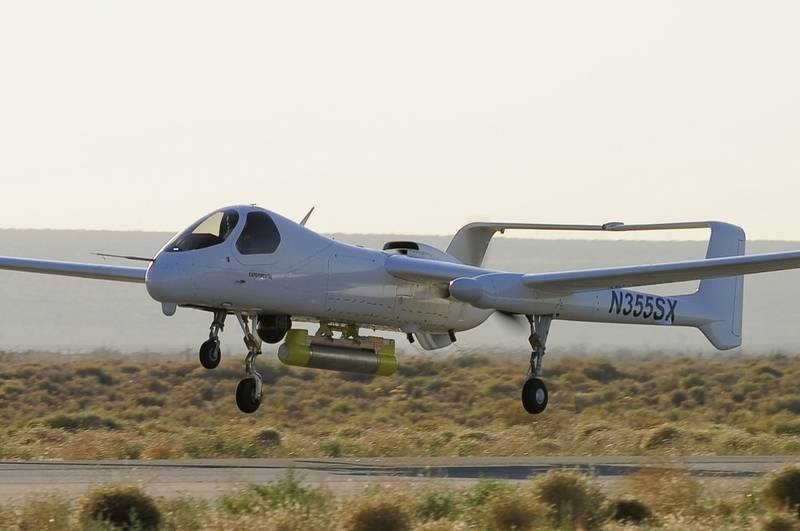 Manned Firebird
In the USA, another test of the promising optionally manned reconnaissance aircraft Firebird (Firebird) took place. Specialists from Northrop Grumman tested the aircraft with a quick change of on-board equipment.
According to the company, during the tests, the aircraft made four flights lasting more than 10 hours each, having completed several reconnaissance missions, during which it collected intelligence, searched for people, found gunpoints and carried out mapping. Tests were conducted at the San Diego training ground in California.
The first flight of the optionally manned Northrop Grumman Firebird took place in February 2010, and later a closed demonstration was held for Pentagon officials. According to the developers, the successful completion of the test cycle that is currently underway can lead to mass production of this machine.
Unmanned version of Firebird
Firebird has a wingspan of 19,8 m, a hull length of 10,3 m. The maximum lift height is 9 km, the time spent in the air in an unmanned version is from 24 to 40 hours. Speed ​​- 250 km / h, maximum - up to 370 km / h. The maximum weight of the cargo is 562 kg. Flight range - up to 2,5 thousand kilometers. The device is equipped with both an internal compartment for equipment and external suspension points for container reconnaissance systems.
In the field, reworking from an unmanned to a manned version (and vice versa) takes only four hours, and a change of reconnaissance modules takes about 30 minutes. The main purpose is reconnaissance.
The company notes that due to the simple and robust design, Firebird can be used on aerodromes with poor coverage.