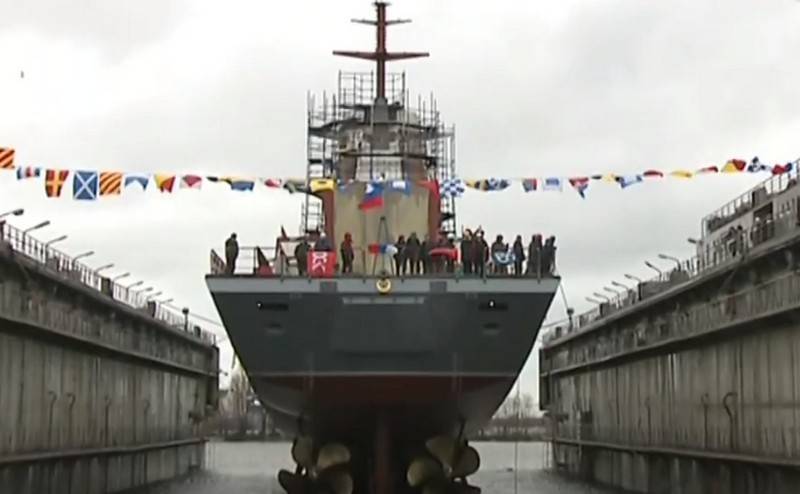 Corvette "Retivy" project 20380 will be transferred to the Russian Navy next year. It is reported by Mil.Press FlotProm, citing a source in the shipbuilding industry.
The delivery term of the Retivy corvette, the construction of which continues at the Severnaya Verf shipyard, is 18 months
- cites the publication of the word source.
Corvette is the fifth corvette of project 20380, built at the Northern Shipyard. Previously, the name "Retive" was a patrol ship of project 1135, decommissioned in 1995. As Nikolai Evmenov, Commander-in-Chief of the Russian Navy, previously stated, after completion afloat, the "Retivy" will go to serve in the Black Sea Fleet, although the Baltic was previously called the corvette's duty station.
From the previous corvettes of Project 20380, the Retivy differs mainly in installation on the new Zaslon multifunctional radar complex with the placement of fixed antennas in a tower-like superstructure, similar to the corvettes of project 20385.
The corvette was laid down on February 20, 2015, on October 04, 2017, the formation of the hull was completed, and on March 21, 2018, the loading of engines and gearboxes in the fore engine room was completed. Derived from the boathouse on December 25, 2019, launched on March 12, 2020.
Corvettes of project 20380 are designed for operations in the near sea zone of the state, to combat surface ships and submarines of the enemy; for artillery support of naval landing during naval landing operations by launching missile and artillery attacks on ships and vessels at sea and bases; to patrol the area of ​​responsibility with a view to blocking.
Displacement standard 1800 tons, total 2220 tons. The length is the largest 104,5 meters, width 13 meters, maximum draft 7,95 meters. Maximum speed 27 knots. Cruising range up to 4000 miles.
The main armament is the Uran 2X4 anti-ship missile system, and the Caliber or Onyx from the eighth ship. Also in service with the Redut air defense system, the Pak-NK anti-submarine system, the A-100 190-mm gun mount, two 14,5 mm machine-gun mounts and two DP-64 anti-sabotage grenade launchers. There is a hangar for the Ka-27 helicopter.