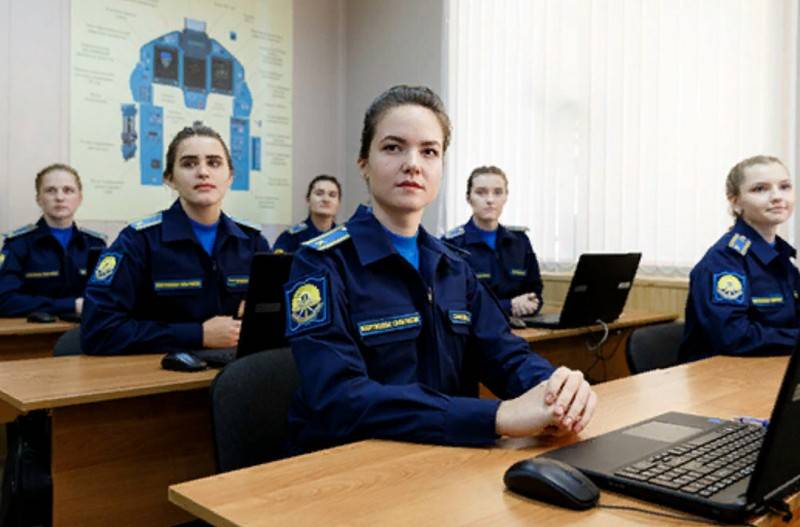 This year, nine Russian higher education institutions of the Ministry of Defense open their doors to girls. According to the official newspaper of the military department "Red Star", girls may try to enter
aviation
University, Naval and Strategic Missile Forces (Strategic Missile Forces).
According to the newspaper, this year girls can get higher education and become officers of the Russian army in the following higher educational institutions of the Ministry of Defense: Military Academy of the Russian Chelyabinsk Chemical Plant named after S.K. Tymoshenko in Kostroma, Krasnodar Higher Military Aviation School for Pilots named after A.K. Serova, Military Academy of Aerospace Defense named after G.K. Zhukov in Tver, Military Institute (Naval Polytechnic) Military Research Center of the Navy "Admiral Naval Academy
Fleet
Soviet Union N.G. Kuznetsov "in St. Petersburg and its branch in Kaliningrad, Military Academy of the Strategic Missile Forces named after Peter the Great in Balashikha, Moscow Region.
In addition, girls are expected to study at the Military Communications Academy named after S.M. Budyonny and the Military Medical Academy named after S.M. Kirov in St. Petersburg, as well as the Military University of the Ministry of Defense in Moscow.
As previously reported, the recruitment of applicants to military universities will begin on July 15 and will be held under the new rules in connection with the coronavirus pandemic. Due to the postponement of the exam, the selection of candidates for study at military schools will take place at the place of residence, without arrival at the university.
In order to select candidates and conduct entrance examinations, the Ministry of Defense sent special visiting groups to 74 regions, which included representatives of universities, specialists from professional psychological selection and physical training groups. The selection will be held on the basis of the military commissariats of regions, territories and republics.
In total this year, over 40 thousand guys and girls are applying for military universities. The largest competition is expected at the Novosibirsk Higher Military Command School, the Zhukov Military Academy of Aerospace Defense (Tver), the Kirov Military Medical Academy (St. Petersburg) and, of course, traditionally at the Ryazan Guards Higher Airborne School named after Margelova.