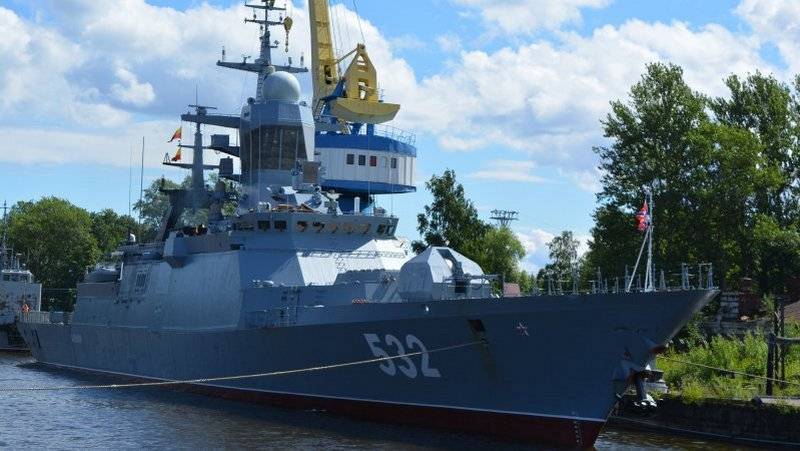 At the Kronstadt Marine Plant, dock repair of the project 20380 Boyky corvette was completed. This was reported by the press service of the enterprise.
According to the report, the corvette arrived for service in mid-May of this year. In the course of the work carried out on the ship, the underwater hull was painted, inspection and repair of bottom-side valves, as well as other mechanisms and assemblies were carried out.
Currently, the corvette is preparing to move to St. Petersburg, where it will take part in the Main Naval Parade in honor of the Russian Navy.
The Boyky Corvette is the third in a series of Project 20380 ships built at the Severnaya Verf shipyard for the Russian Navy. Laid down on July 27, 2005, launched on April 15, 2011. On May 16, 2013, the Russian Navy flag was hoisted on the ship; the corvette became part of the Baltic
fleet
.
Displacement standard 1800 tons, total 2220 tons. The length is the largest 104,5 meters, width 13 meters, maximum draft 7,95 meters. Maximum speed 27 knots, economic 14 knots. Cruising range from 3500 to 4000 miles at 14 knots. The autonomy of navigation in terms of provisions 15 days. The crew is 99 people.
Engines: 4 16D49 diesel engines, 2 shafts, 2 five-blade propellers. Power: 23320 l. from. or 17140 kW.
Armament: 2x4 URK rocket launcher with the Monument-A SU, 3x4 Redut air defense missile systems (12 9M96 SAMs), one 100-mm Universal gun mount A190-01 with Puma artillery system, two 30-mm gun mounts AK-630M, two 14,5-mm machine-gun mounts MTTPU, 2x4 330-mm PU PTZ "Pack-NK", 2 grenade launchers DP-64, 1 Ka-27 helicopter.