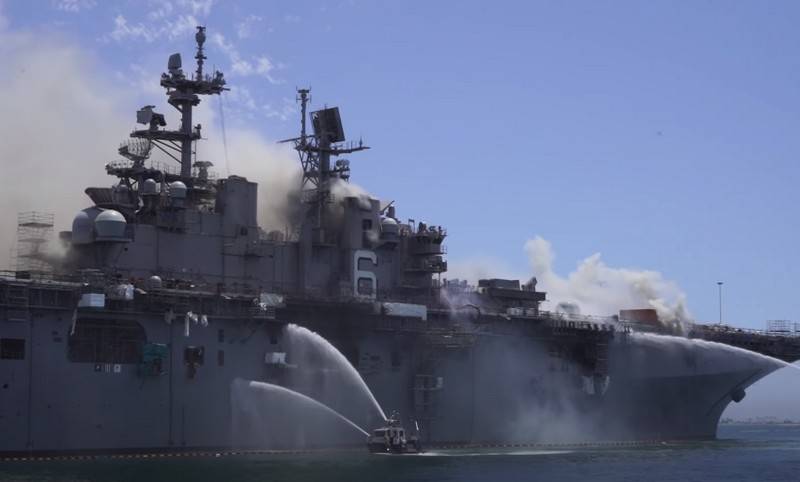 Part of the take-off deck collapsed on the USS Bonhomme Richard (LHD 6), an American landing ship burning for the third day, standing at the pier of a naval base in San Diego.
According to local media, huge sections of the deck fell into the ship, cracked the ship's hull closer to the waterline, and puffs of thick smoke fell from the cracks. The fire has already damaged one of the superstructures on the deck of the ship, in particular, the bridge and mast, which collapsed, were damaged. The ship, due to the accumulated water, precipitated and banked. Rescue teams are pumping water.
The fire extinguishing operation continues, but despite all the efforts made, it is not possible to extinguish it. The main focus is located inside the universal landing ship and there is no way to get to it. Currently around the ship are fire boats watering the ship with water. In addition, three helicopters circling above him, dropping water to the UDC deck.
In the Pacific surface command
fleet
reported 59 victims during the fire extinguishing at the moment. However, none of the victims needs hospitalization.
59 people, including 36 sailors and 23 civilians, received minor injuries as a result of heat stroke and smoke poisoning. None of them are currently in the hospital.
- said in a statement.
The fire report was received at 08:30 local time on Sunday, July 12. The fire started in the cargo compartment on the lower deck, where a large amount of marine equipment and equipment is stored. The situation is complicated by the presence of more than 3,5 thousand tons of fuel, located two decks below. At the moment, the cause of the fire is unknown.