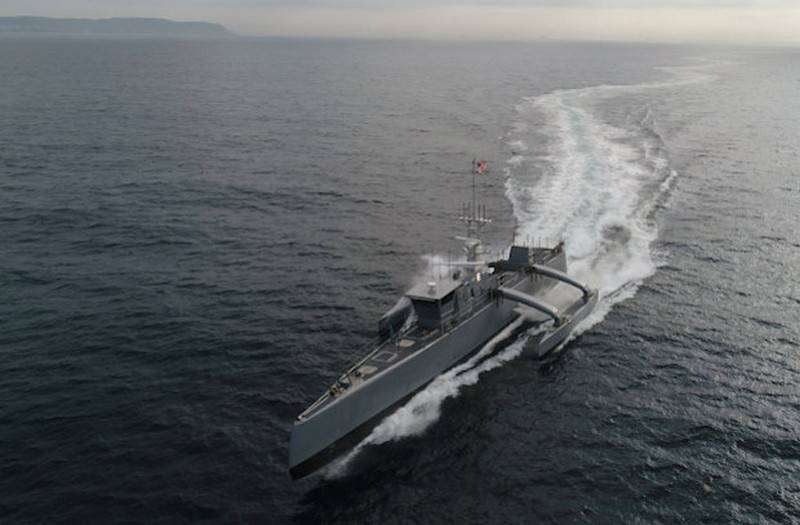 The U.S. Navy intends to soon be armed with a promising medium surface robotic ship (MUSV, Medium Unmanned Surface Vessel). According to "NPlus1" with reference to Breaking Defense, the Navy signed a contract for the development of a prototype of a robot ship with the American company L3 Technologies.
It is reported that the military plans to allocate 34,9 million dollars for this development. If the prototype of the robot ship satisfies the requirements of the US Navy, the military will order the production of eight more MUSV.
As previously reported, the US Navy on October 17, 2018 posted on the US government procurement website a new program called the "Medium Unmanned Surface Vehicle" - "Medium Unmanned Surface Ship". As part of this application, requirements for a future crewless boat were placed. You can read more about this in the material "VO":
Project Medium Unmanned Surface Vehicle. US Navy wants a new crewless boat
According to the contract concluded by the Navy with L3 Technologies, it is allowed to create a ship with a length of 14 to 58 meters (according to the requirements of the US Navy). The displacement of the apparatus should be about 500 short tons (about 454 metric tons). The main equipment for MUSV should be intelligence systems and electronic warfare equipment. At the moment, other development details are not provided, however, it can be assumed that the development itself will not go beyond the previously voiced requirements of the Navy.
In total, the US Navy intends to take
fleet
at least 40 crewless MUSV ships.