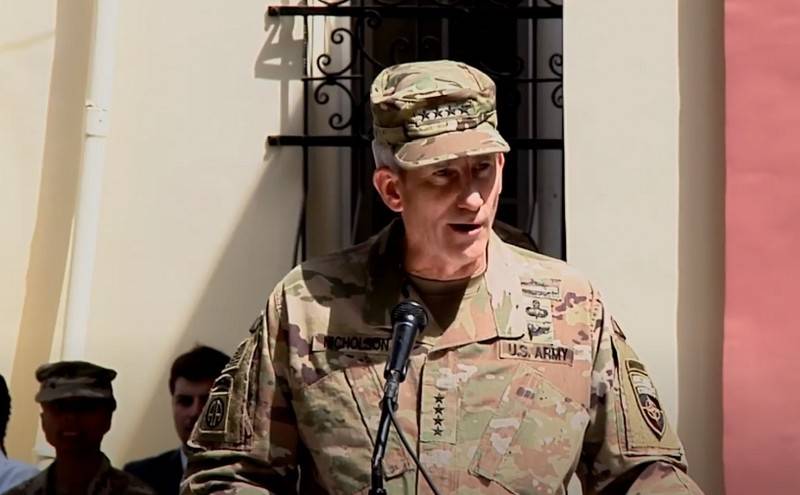 The United States will need to be given a "tough answer" in the event that a collusion between Russia and the Taliban radical Afghan movement (banned in Russia) is proved. This was stated by the former commander of the US and NATO international forces in Afghanistan, a retired general John Nicholson.
In a conversation with The Washington Post, a retired general said that during command in Afghanistan from 2016 to 2018, he was confronted with "evidence" of Taliban cooperation with Russia. According to him, Moscow through Tajikistan supplied the Taliban with small arms
weapon
and ammunition, and also funded the movement. However, Nicholson noted, Russia refused to supply anti-aircraft missiles to the Taliban.
At the same time, the general said, if information is confirmed that Russian military intelligence allegedly secretly offered to pay the Taliban for the killing of the US military, then the US needs to "clearly and unequivocally" respond to this.
If true, this is both a reckless miscalculation and a big mistake on the part of the Russians and the Taliban.
History
shows that such mistakes and miscalculations often lead to war
- declared the general.
In response to the actions of Russia, the United States needs to stop the withdrawal of American troops from Germany, as well as from Afghanistan, as well as condemn the actions of Russia, stressing that they undermine any chances of improving relations and cooperation.
Recall that on June 26, the American edition of The New York Times accused Russian military intelligence of conspiring with the Taliban. According to the American intelligence services, the Russians secretly offered to pay for the killing of American troops in Afghanistan.