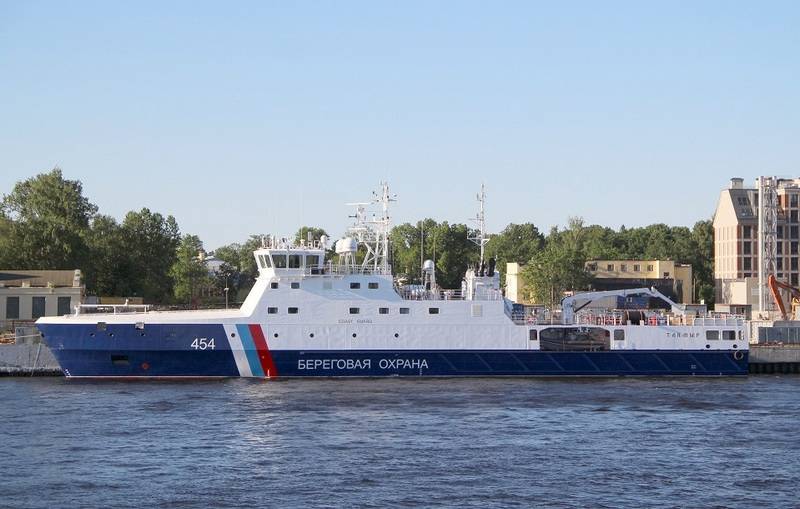 The border service of the FSB of Russia received another border patrol ship of the 2nd rank of project 22120 (code "Blizzard"). The flag raising ceremony of border ships, boats and support vessels was held on July 10, 2020 at JSC Almaz Shipbuilding Company.
Reportedly, the ship, called the Taimyr, became part of the Coast Guard of the Border Service of the FSB of the Russian Federation. Most likely, the ship will go to serve in Kamchatka, where the previous ships of the Kamchatka and Transbaikalia ships of this project went. The first two ships of the series Rear Admiral Kolchin ES and Rear Admiral Dianov serve on Sakhalin.
The Taimyr ship was launched on the Almaz SF without much publicity at the beginning of July 2019, but the delivery of the ship was delayed and as a result it was put into operation only now. He became the fifth, and, apparently, the last in a series of ships of the project 22120.
This project of patrol ships was developed by PKB Petrobalt LLC as a large customs vessel by order of the Federal Customs Service of the Russian Federation on the instructions of 2005. After the refusal of the FCS of the Russian Federation in 2009 from this project, funding continued from the Border Service of the FSB of Russia. Initially, project 22120 was classified as border patrol vessels (PPS), and since 2018 it has been classified as border patrol ships (PPC) of the 2nd rank.
The patrol ship of the project 22120 cipher "Purga" is a high-speed multipurpose ice-class coast guard ship capable of keeping watch on ice. The hull of the ship is equipped with ice reinforcement, allowing to overcome the ice thickness of more than half a meter. Maximum stroke speed - 24 knots. economic - 14 bonds. The sailing range of the economic course reaches 6000 miles, autonomy - 20 days, and the crew size is 16-25 people + up to 14 people as passengers. Armed - automatic artillery installation AK-306M and one helicopter.