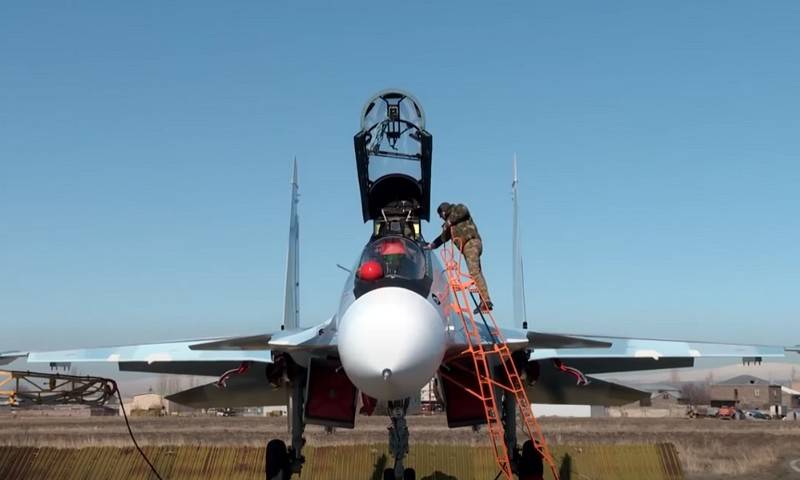 The Armenian Ministry of Defense has denied media reports about sending Su-30SM fighters of the country's air force to patrol the border with Azerbaijan due to a military conflict. This was reported by the press secretary of the military department of Armenia Shushan Stepanyan.
According to the representative of the Armenian Ministry of Defense, the flights of the Su-30SM fighter of the Armenian Air Force are in no way connected with the escalation of military operations on the Armenian-Azerbaijani border.
SU-30SM are engaged in daily combat training, and this has nothing to do with escalation on the border with Azerbaijan
- said Stepanyan.
Earlier, information was circulated in social networks and the media that Armenia had flown Su-30SM fighters in the wake of the conflict with Azerbaijan.
At present, the Armenian Air Force is armed with four Su-30SM multi-functional fighters, and the delivery of eight more aircraft is expected in the near future. The Azerbaijani Air Force is armed with MiG-29 fighters of Soviet-era construction, purchased from the presence of the Ukrainian Air Force in the mid-2000s. However, the combat effectiveness of these aircraft is in doubt.
Recall that the first two Su-30SM fighters of the Armenian Air Force received at the end of December 2019, two more - at the beginning of 2020. Before receiving Russian aircraft, Armenia did not have a fighter
aviation
, only Su-25 attack aircraft were in service with the country.