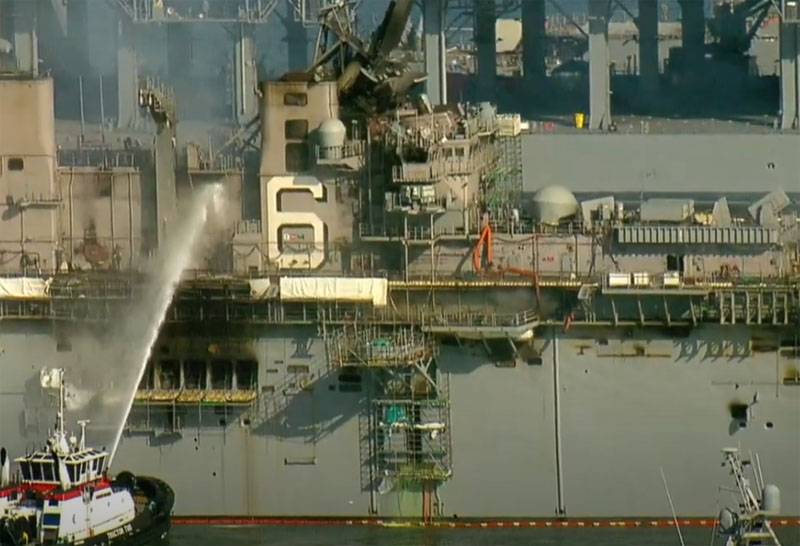 The U.S. Navy presents updated data related to the fire aboard the USS Bonhomme Richard (LHD-6) universal landing ship. According to new information, 57 people received poisoning from combustion products and burns, including both military sailors and civilian personnel, including firefighters.
Rear Admiral of the U.S. Navy Richard Sobek, turning to reporters, said that open burning on board the UDC lasted at least 27 hours. The main task that was set before the fire brigades was to prevent the spread of fire in the fuel compartments, as well as on the infrastructure of the San Diego military base and other ships. Allegedly, firefighters coped with this task.
Rear Admiral Sobek:
It was the worst watch for a warship. The fire spread to the captain's bridge, the skin was partially melted. Collapsed structures on the upper deck. Burned out indoor. There, the temperature reached 1000 degrees. Our firefighters took all measures to cope with the frantic spread of fire.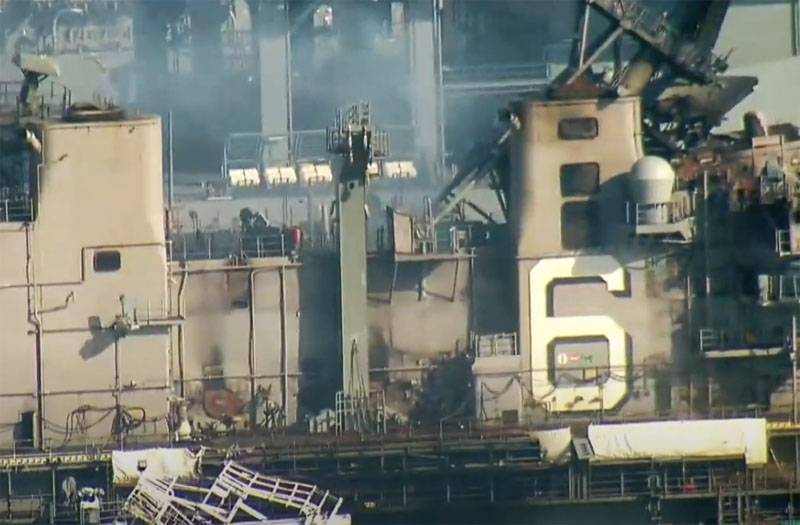 An important statement from representatives of the Navy base in San Diego is that at the time of the fire, no welding was carried out on the ship, although a few hours after the fire started, it was the "spark from welding" that was called the cause of the Bonhomme Richard fire. Also an important statement concerns automatic fire extinguishing systems. It is alleged that most of them were disabled for some reason. They were probably turned off during the repair and maintenance of the UDC.
From the press conference of Rear Admiral Sobek:
Due to the fact that the ship is undergoing maintenance, debris and dismantled fragments of the structure are scattered along its passages, which complicates the safe fight against fire.
At the moment, fire
aviation
continues to "spill" the ship with water. At the same time, the ship continues to smoke.
The frames of one of the San Diego canals show the fire fighting process and the damage that the U.S. Navy ship received: