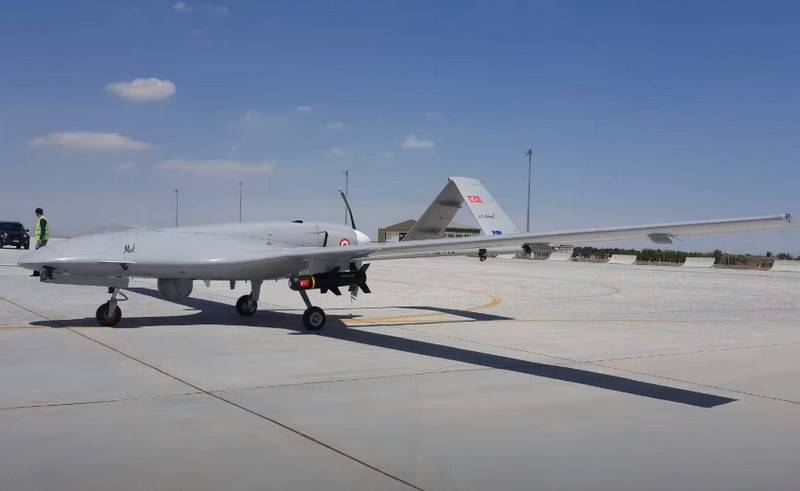 Ukraine intends to acquire another batch of Turkish Bayraktar TB2 drone drone. This is reported by Turkish media.
According to Turkish news agency Anadolu, the topic of acquiring drones was discussed during the official visit of the Turkish Minister of Defense to Kiev. Reportedly, on July 10, during a meeting with his Turkish counterpart Hulusi Akar, Minister of Defense of Ukraine Andriy Taran announced his intention to purchase an additional batch of Turkish attack drones.
Recall that in 2019 Ukraine received six reconnaissance and strike UAVs "Bayraktar TB2" for the APU. According to Defense-ua.com, recently this drone was first used during the exercises of the Ukrainian army to conduct reconnaissance and strike a ground target using MAM-L ammunition.
According to available information, under the new transaction, Bayraktar TB2 drones will be delivered to the APU within a year. In addition to the UAVs themselves, the delivery will include three ground control points.
The Turkish Bayraktar TB2 UAV is an aircraft-type UAV. Wingspan - 12 m, length - 6,5 m. Maximum take-off weight - 650 kg, can carry two high-precision munitions MAM-L weighing 21,5 kg and two MAM-C weighing 7 kg, allowing to hit targets at ranges from 2 to 8 km. UAV flight duration - up to 24 hours, range in line of sight - up to 150 km.