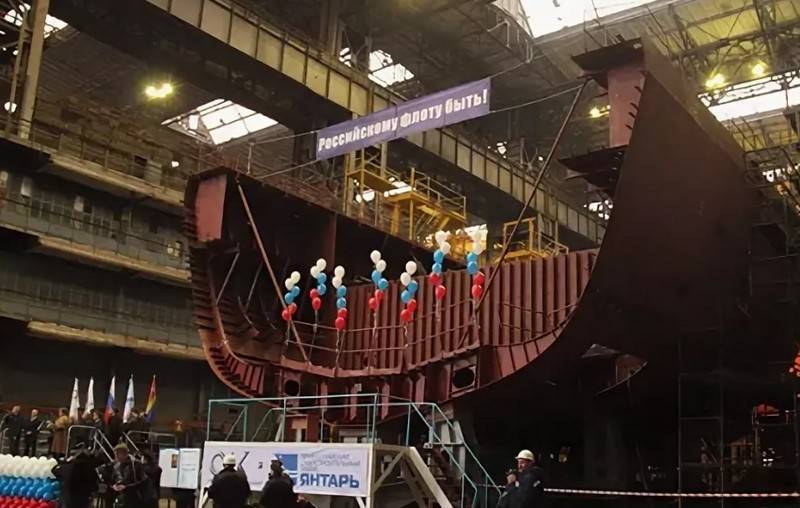 A single ship laying day, previously planned for the end of April this year, will be held on July 16. It is reported by Mil.Press FlotProm with reference to two knowledgeable industry sources.
According to the publication, a single bookmark day surface and submarine ships will be held July 16. According to one of the sources, there is still a slight likelihood of a postponement of the deadlines, but in any case, the laying of the ships is planned for this month. Ceremonies will be held taking into account the measures taken in connection with the spread of coronavirus infection.
Previously, a single day for laying surface ships and submarines was scheduled for April 28, but was postponed due to the coronavirus pandemic.
Recall that on a single day it is planned to lay two universal landing ships (UDC) at the Zaliv plant in Crimea, two frigates of project 22350 at the Severnaya Verf shipyard in St. Petersburg and two multipurpose submarines of project 855M (Yasen-M) at Sevmash "in Severodvinsk. It is specified that the frigates will be laid down according to the modernized version of the second series: each ship will have 24 launchers.
It also became known that the frigates preparing for the tab will receive names in honor of the Russian admirals Ivan Yumashev and Emil Spiridonov. Both naval commanders commanded the Pacific
fleet
, and Yumashev in 1947-1951 served as commander in chief and naval minister of the USSR. Nuclear submarines will be named in honor of Vladivostok and Voronezh, one of two UDCs of project 23900 is planned to be named in honor of the Hero City of Sevastopol. The name of the second has not yet been disclosed.