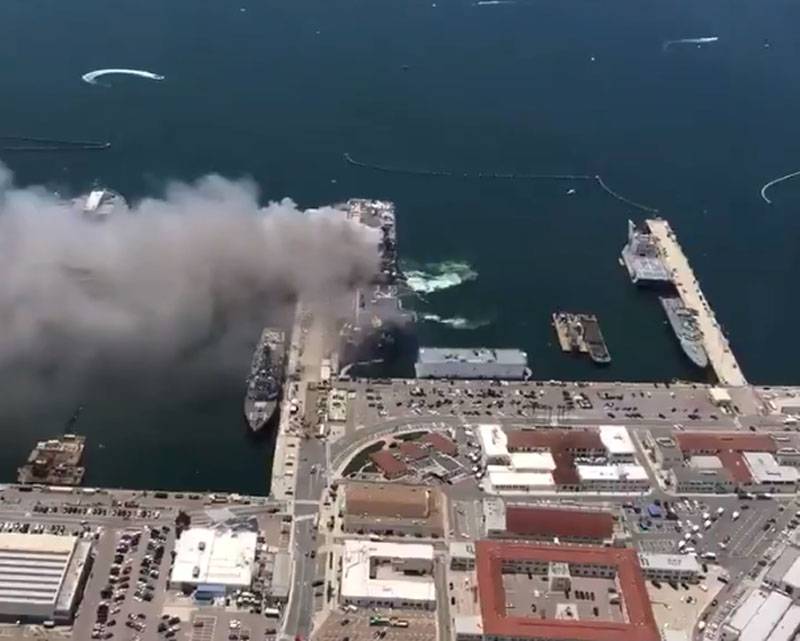 There are some details about the fire aboard the USS Bonhomme Richard U.S. Navy universal landing ship. The fire occurred on board a warship located at the naval base of San Diego.
On the frames that are published on social networks, on the feeds of news agencies, you can see puffs of smoke that rise tens of meters above the deck of the American UDC. Eyewitnesses say that the fire may be in the engine compartment of the ship. At the same time, pops are heard, but there is no exact data about what exactly explodes "Bon Richard."
Dozens of crews of firefighters and special equipment are drawn to the naval base.
July 12th, 2020
Shots of the fire from the San Diego Rescue Service:
Video of the USS Bonhomme Richard shot from SDFD copter 3. #shipfire pic.twitter.com/tYluuN5pii

- SDFD (@SDFD) July 12th, 2020
According to the latest data, at the initial moment of the fire, 160 sailors were on board the UDC U.S. Navy. Several of them have suffered. At the moment, about 18 victims are known. If you believe the press service of the American naval command, then there are no threats to the lives of the injured sailors.
The previous major incident at the U.S. Navy base in San Diego occurred in 2018, when a USS ship under construction was flooded at a NASSCO shipyard on one of the docks.