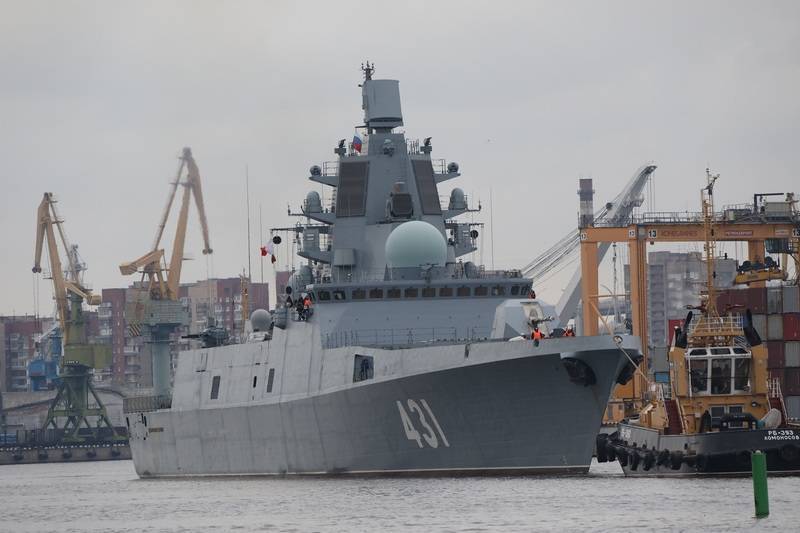 Signing of the acceptance certificate of the first serial frigate of project 22350 "Admiral
fleet
Касатонов" пройдет 15 июля 2020 года, в среду. Об этом сообщает Mil.Press FlotProm со ссылкой на два информированных источника в отрасли.
According to the publication, the signing of the award act will occur at the Northern Shipyard, taking into account the restrictions associated with the spread of coronavirus infection. The ceremonial raising of the flag on the frigate, according to another source, is scheduled for July 21 this year. Like the lead ship of the series - Admiral Gorshkov, Admiral Kasatonov will become part of the Northern Fleet.
По словам источников, кроме передачи фрегата "Адмирал Касатонов" в состав Военно-морского флота, на "Северной верфи" запланировано еще одно мероприятие: в ближайшие дни на верфи пройдет закладка сразу двух фрегатов второй серии проекта 22350 - седьмого и восьмого корабля. По имеющейся информации, они будут нести по 24 универсальные установки вертикального пуска.
The frigate Admiral Kasatonov is the second ship of the 22350 project and the first serial after the lead frigate Admiral Gorshkov. Displacement of 5 thousand tons with a length of 135 m and a width of 16 m. The frigate is able to travel 4500 miles, while developing a speed of up to 29 knots. Autonomy of navigation is 30 days. The crew is from 170 people.
Main power plant: gas turbine engine with a total capacity of 65 thousand liters. pp., diesel generators with a total capacity of 4 thousand kW.
The frigate is armed with: 130-mm A-192 artillery mount, Poliment-Redoubt anti-aircraft missile system, launchers for 16 anti-ship missiles Onyx or Caliber, anti-submarine complex Package, anti-submarine helicopter Ka-27.