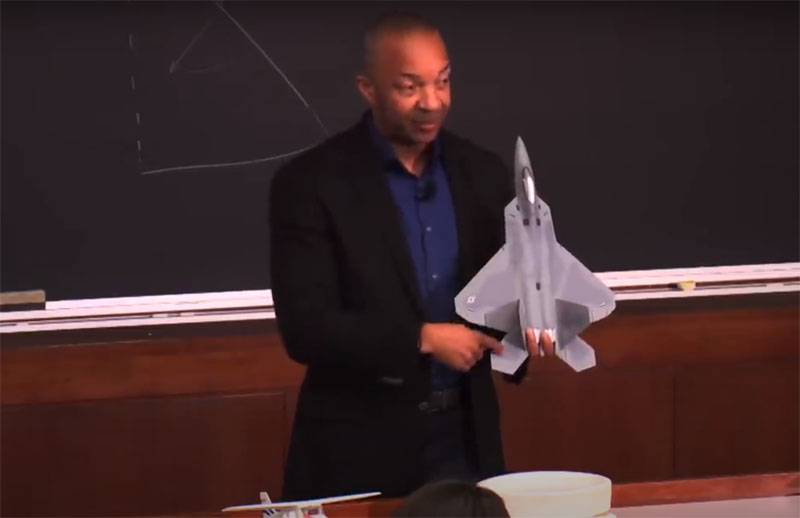 The American media published material on the lecture of the test pilot, fifth-generation F-22 Raptor fighter squadron commander Lt. Col. Randy Gordon. The lecture was given to students of the Private Pilot Ground School at the Massachusetts University of Technology in 2019.
The American pilot talks about the features of piloting an F-22 fighter, noting that the airborne systems of the fighter do everything to minimize the load on the pilot even when performing complex figures in the air.
Randy Gordon, whose lecture in the US media was called very accessible even for those who are superficially familiar with the new generation fighters and their capabilities:
Ultrasonic flight requires an instant response from the pilot and on-board systems. Any error of the pilot, any accidental touch to the flight control system can lead to serious consequences. Pilots carefully monitor that their hands could not allow accidental touches of control units.
It is noted that the method of "reduced sensitivity" is used to reduce the negative effect of accidental touches. For example, the control joystick has a "clearance" of reaction of approximately 1 cm - with a smaller deviation of the flight control system, they will not react to the actions of the pilot. For the first time, such an approach in the US Air Force decided to apply on F-16 fighters.
US Air Force Lt. Col. Randy Gordon says the F-22 has "a great level of automation."
American officer:
In the air combat mode, you press the button of the control element and it fixes the flight speed. This speed will be maintained even if you remove your hand from the control.
A test pilot tells the audience about how the F-22 compensates for movement when dropped.
aviation
ammunition with the JDAM system. Randy Gordon explains that the F-22 uses an automatic fuel bias principle to counteract the shift in the center of gravity of the airplane-drop bomb system. The test pilot says that the pilot does not control this process, and the fuel is pumped in the required volumes in the tanks to compensate for the shift in the center of gravity.
The video notes the automation of the course during refueling in the air (all the same talk about maintaining the necessary speed):
There is a mode for refueling in the air to provide better handling behind the air tanker. Automation carefully "monitors" this to reduce the load on the pilot from the point of view of the need to concentrate on several things at once: maintain horizontal, vertical and lateral speed, exchange data with the refueling board.
Randy Gordon talks about how the automated system itself prepares the plane for departure. It also facilitates the work of the pilot at the moment when the F-22 begins to approach.
The full version of the lecture in English: