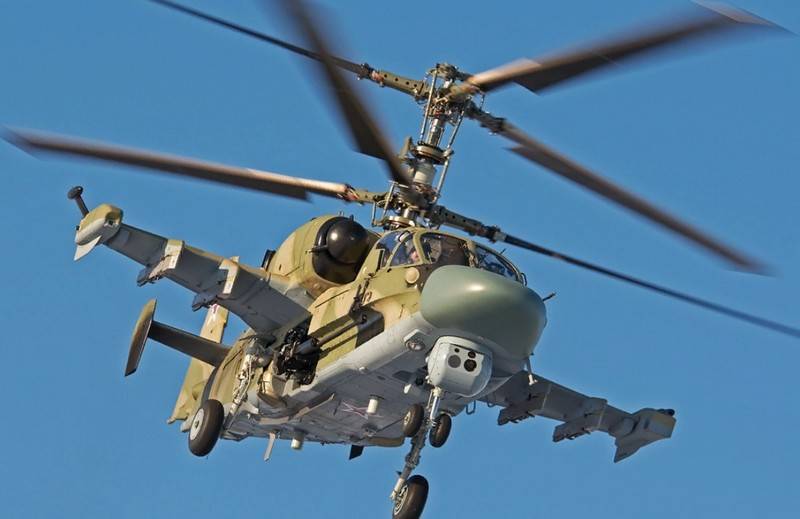 State tests of the upgraded Ka-52M combat helicopter with the new long-range product missile 305 missile should be completed by October 2022. This is stated in the materials posted on the public procurement website.
Participation in the state joint tests (GSI) of Ka-52M helicopters in terms of modernization. Refinement of helicopters according to the results of the ICG Deadlines: start - December 1, 2020, end - September 30, 2022
- the document says.
The fact that the arms of the modernized Ka-52M helicopter will include a new
aviation
cruise missile with a range of up to 100 km, it was reported back in February 2020. In addition, the upgraded helicopter will receive an improved sighting and navigation system, a new cockpit avionics and a new screw group. In addition, the helicopter should receive increased protection, new energy supply systems and target detection (installation of a new radar with AFAR). The new weapons of the helicopter are largely unified with the Mi-28N.
During the modernization, the Ka-52 will receive a new long-range cruise missile "Product 305", which was previously armed with the Mi-28NM attack helicopter. (...) the new machine will receive an interface unit with this missile, an aircraft launcher for it, a command radio line for using the product
- says the text of the document.
Regarding the "Product 305", it was previously reported that this guided aircraft missile was tested in Syria as part of the armament of the Mi-28NM helicopter.
According to the June data on the government procurement portal, the National Center for Helicopter Engineering named after Mil and Kamov placed an order for the manufacture and testing of two prototypes of Ka-52M, created on the basis of serial machines. The transfer of cars for flight testing should take place before May 31, 2021.
The Ka-52 Alligator is a new-generation Russian attack and attack helicopter designed to solve a wide range of tasks. Equipped with modern avionics and powerful weapons. Equipped with electronic protection system and devices to reduce visibility.