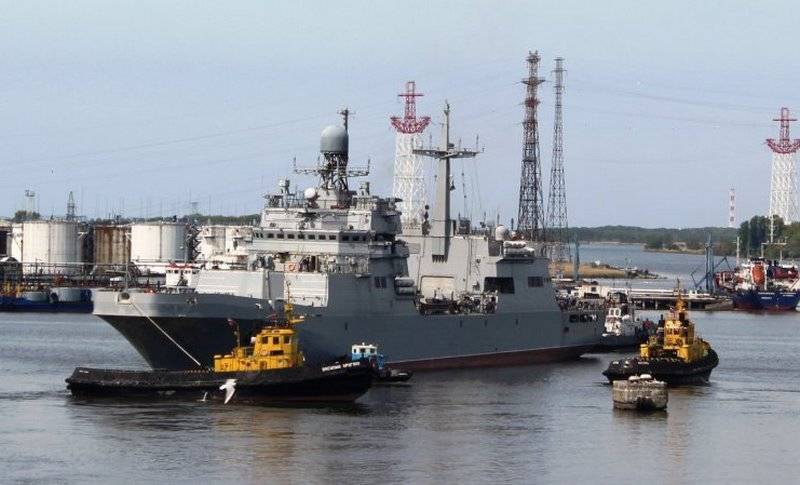 The first serial BDK of the project 11711 "Peter Morgunov" resumed passing the tests, once again entering the Baltic Sea. According to TASS with reference to the representative of the Yantar Shipyard, this stage is final.
According to the representative of the enterprise, "Peter Morgunov" reached the final stage of factory sea trials, which should be completed by mid-July. Whether state tests will be carried out in the future or whether they were combined with running ones is not known. Also, so far nothing has been reported on the timing of the adoption of the BDK
fleet
.
The only reliable information at the moment came from the Ministry of Defense. According to her, BDK "Peter Morgunov" should take part in the Main Naval Parade, which will be held July 26 in St. Petersburg and Kronstadt in honor of the Day of the Russian Navy.
According to the plans announced earlier, the BDK was supposed to finish sea trials by mid-April and immediately switch to the state, so that in May it would join the fleet. However, the tests of the ship dragged on, in early June he was returned to the "Yantar" to carry out finishing work.
BDK "Peter Morgunov" is the second ship of the project 11711 and the first serial after the lead BDK "Ivan Gren". Laid down in June 2015 and launched on May 25, 2018. The construction of the ship was carried out with delays, since it was necessary to correct the mistakes made in the design of the lead ship.
BDK 11711 is able to accommodate 13
tanks
or more than 30 armored personnel carriers and infantry fighting vehicles. The ship also provides for the deployment of a reinforced battalion of the Marine Corps, as well as the temporary basing of various types of ship helicopters. The ship has a cruising range of 4 thousand nautical miles, which allows you to perform tasks in the far sea zone.