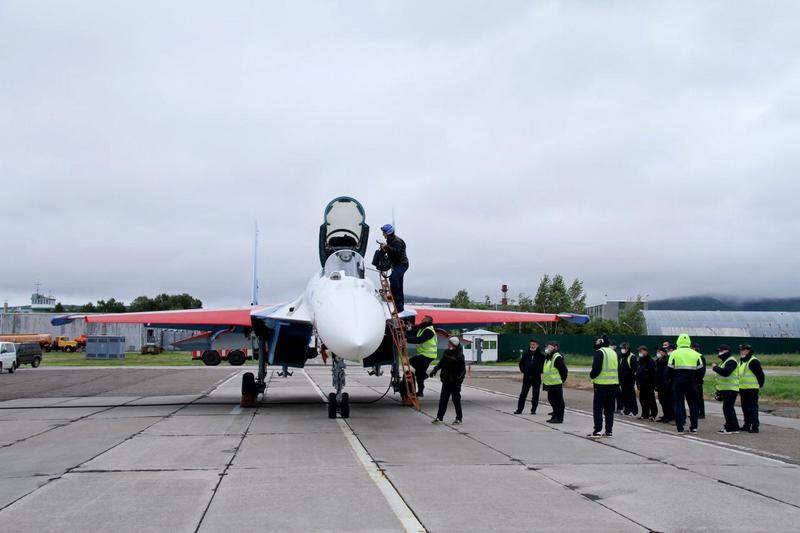 Komsomolsk-on-Amur
aviation
the plant (KnAAZ) manufactured four more Su-35S aircraft for the Russian Knights aerobatic team. According to the UAC, the aircraft have already passed the required tests and are ready for transfer.
According to the report, all four aircraft, painted in the colors of the Russian flag, have serial equipment. Currently, they are at the aerodrome of the aircraft factory, when the transfer occurs, not reported. The group received the first four Su-35S last fall.
According to the bmpd blog, the second four SU-35S fighters for the Russian Knights aerobatic team were built as part of the 2020 state defense order. Recall that in December 2015, the Ministry of Defense and the Sukhoi company signed a five-year contract for the supply of 50 Su-35S fighters. At the same time, the military department received 10 fighters over four years, i.e. from 2016 to 2019. Thus, if you do not count four Su-35Ss for the Russian Knights, then under the contract KnAAZ will deliver six more fighters by the end of the year and that's all. Whether the next contract for the Su-35S will be concluded is not yet known.
Now back to the aerobatic team. The fact that the Russian Knights received the first four new single-seat multi-functional fighter Su-35S was reported in November 2019. The planes were received in Komsomolsk-on-Amur, after which the pilots made a flight to Kubinka.
Su-35S replenished the fleet of the group, consisting of eight two-seat Su-30SM fighters received by the group in October-November 2016. Moreover, it was previously reported that with the receipt of the Su-35S, the group will not refuse to fly on the Su-30SM.
Russian Knights is the only aerobatic team in the world showing aerobatics on the Su-27 and Su-30SM heavy fighters, which differ only in color from combat aircraft. It was established on April 5, 1991 on the basis of the 1st aviation squadron of the Center for the display of aircraft at the Kubinka airfield.