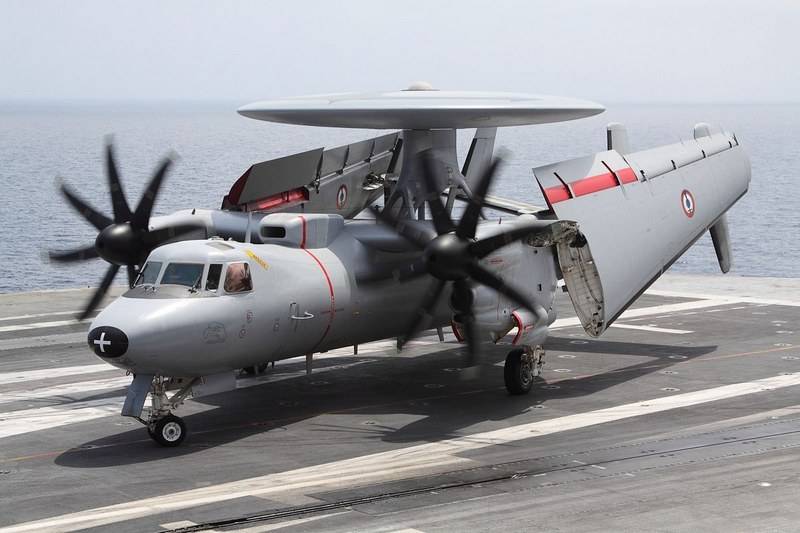 The United States will supply France with three Northtrop Grumman E-2D Advanced Hawkeye carrier-based early warning and control aircraft. According to the US Department of Defense Agency for Military Cooperation (DSCA), a notification was sent to the US Congress. Previously, the deal was approved by the State Department.
All three E-2D Advanced Hawkeye will be delivered to France through the US program Foreign Military Sales (FMS). The total cost of delivery will be $ 2 billion, including training and technical support packages. The first plane will arrive in France no earlier than 2025.
In addition to the aircraft themselves, the delivery will include: 10 T56-A-427A engines (6 installed and 4 spare), 3 APY-9 radars, 4 AN / ALQ-217 radio intelligence systems (3 installed and 1 spare), 3 integrated navigation systems and Mapping AN / AYK-27, 5 Link-16 MIDS-JTRS (Multifunctional Information Distribution System / Joint Tactical Radio System), including 3 installed and 2 spare, 10 sets of integrated inertial / GPS navigation systems (6 installed and 4 spare), 4 friend-or-foe identification systems AN / APX-122 (A) and AN / APX-123 (A) (3 installed and 1 spare).
These AWACS aircraft of a new modification of the E-2D Advanced Hawkeye should replace the three AWACS aircraft of the previous modification of the E-2C Hawkeye that are in service with the French Navy. They are currently part of the wing of the only French aircraft carrier Charles de Gaulle (usually there are two aircraft on board, one on the shore). France received two E-2C aircraft in 2000 and one more in 2007. All aircraft underwent upgrades to Hawkeye 2000.
According to the bmpd blog, France has actually become the second foreign country to receive E-2D modification aircraft after Japan, which ordered 13 such aircraft.