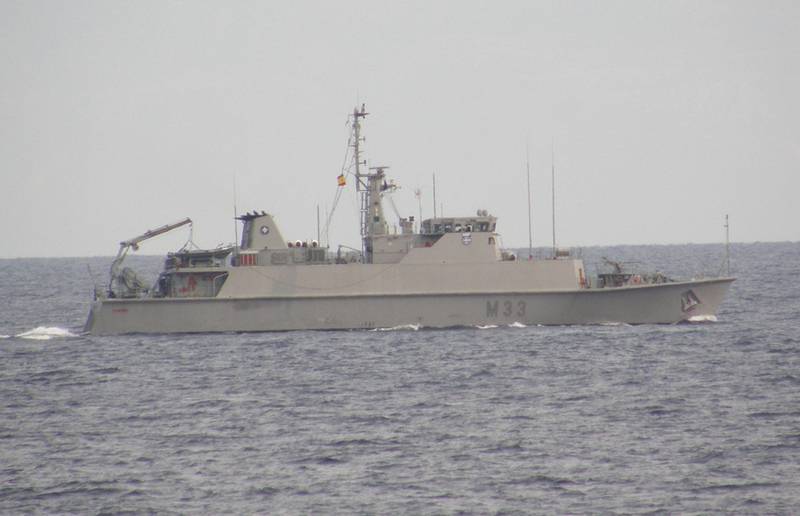 Minesweeper-seeker mines M-33 Tambre Spanish Navy
The American missile destroyer Porter URO did not have time to leave the Black Sea, another group of NATO ships proceeded in the opposite direction. According to the National Defense Management Center of the Russian Federation, the forces and means of the Black Sea
fleet
We took control of the alliance mine-sweeping group that entered the Black Sea.
According to the report, the group includes: Aliakmon's floating supply base from the Greek fleet and two Tambre and Gaeta minesweepers from the Spanish and Italian fleets. The supply base is the flagship of the group.
The forces of the Black Sea Fleet have begun monitoring the activities of the permanent mine-sweeping group of the NATO primary engagement forces as part of the Greek naval supply base Aliakmon, minesweepers-mines Tambre of the Spanish Navy, Gaeta of the Italian Navy, which entered on July 7, 2020 years to the Black Sea
- said in a statement.
Earlier it was reported that today the American destroyer URO Porter, who entered there on June 17 this year, left the Black Sea. According to a report from the 6th Fleet of the US Navy, the destroyer was in the Black Sea to strengthen "interaction with NATO allies and partners." The ship took part in joint exercises with the ships of Bulgaria, Georgia, Romania and Turkey. Oak Hill, an American landing ship dock, was also there.