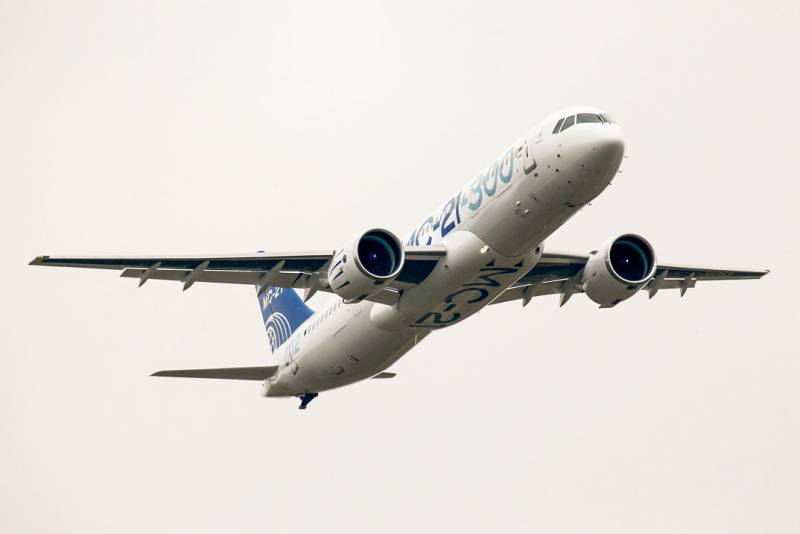 According to Industry Minister D. Manturov, the reason for the postponement of certification of the Russian MC-21 aircraft was the coronavirus pandemic. First of all, related to it restrictions on movement for foreigners.
During a pandemic, access to foreign specialists in Russia is virtually closed. It was difficult to move around the country and the Russian participants in the cooperation. Therefore, we are now receiving a certificate of the Russian type is expected around mid-2021. And a year later - European. In this case, the first commercial aircraft can be shipped to the operator at the end of 2021
- said Manturov.
At the same time, it is worth noting that the PD-14 engine, which is planned to be installed on a new airliner, managed to pass full certification in Russia, and the European one is scheduled for the end of 2022. It was then that the European Aviation Safety Agency (EASA) should give its "good".
It is planned that flight tests will pass two aircraft MS-21. One of the gliders has already been assembled at the Irkutsk Aircraft Plant, and now they are assembling the layout of systems, primarily PD-14 engines. In the fourth quarter of this year, its transfer to flight tests is planned. Their completion will take place in the second quarter of 2022.
MC-21 is known to surpass its foreign counterparts in a number of indicators. MC-21-300 can carry, depending on the layout, from 165 to 211 passengers at a distance of up to 6000 km. Its maximum take-off weight is 79250 kg. In turn, the A320neo in a two-class layout can carry only 150-180 people. During test flights of the basic modification of the MC-21-300, the maximum values ​​of the following indicators were achieved: flight altitude of 12,5 thousand meters, speed of 949 kilometers per hour, flight duration of 6,2 hours. These are also better indicators than their western counterparts. Airbus Corporation about its A320neo says the following: the maximum height is not more than 11,8 thousand meters with a maximum speed of 876 km / h. The maximum flight altitude of the basic version of the Boeing 737 - 737MAX 8 - is 12,3 thousand meters, and its maximum speed is 925 kilometers per hour.
The number of orders for the MS-21 is stably kept at 175 aircraft. The number of orders under agreements of intent is 150 units.