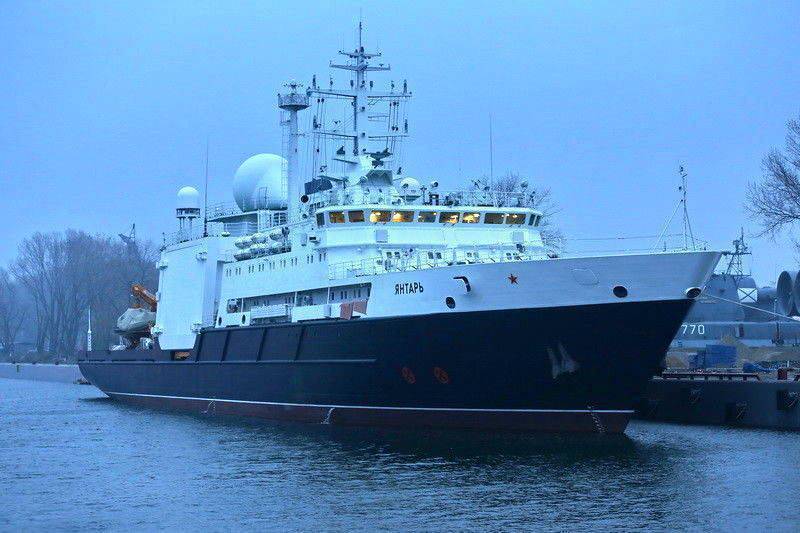 The maintenance of the Yantar oceanographic research vessel of project 22010 at the Baltic Shipyard is completed, all planned work is completed. This was reported by the press service of the enterprise.
According to the representatives of the plant, all work was carried out on time and in full, the vessel has already left the water area of ​​the enterprise and set sail for solving the tasks. Where the "communications hunter" will now appear, as the Amber is called in the West, is unknown. Most likely, before fulfilling the assigned tasks, the ship will return to the Northern Fleet.
The fact that "Yantar" arrived at its first service in early April after commissioning in 2015, the press service of the Baltic Shipyard reported on the 20th of May this year. As then stated, the ship itself was technically sound, it was planned to carry out a number of pipeline and hull operations.
Oceanographic research vessel of unlimited coverage "Yantar" is the lead vessel of project 22010 developed by the Almaz Central Marine Design Bureau. The displacement of the vessel is 5,2 thousand tons, length - 108,1 m, width - 17,2 m. The contract for its construction in the interests of the Main Directorate for Deep-Water Research (GUGI) was signed with the Ministry of Defense of the Russian Federation in February 2009.
The main purpose of the 22010 project vessel is to study the oceans, including the bottom at great depths. It can also be used for rescue purposes, the equipment installed on it will allow you to search for sunken objects on the sea and ocean floor.
In the fall of 2019, the Yantar ship was spotted in the Caribbean off the coast of Trinidad and Tobago, after which it was accused of "hunting for American communications." According to US media, the Russian "spy" ship periodically disappears from the field of view of surveillance equipment to appear in "unexpected places" near the US coast.