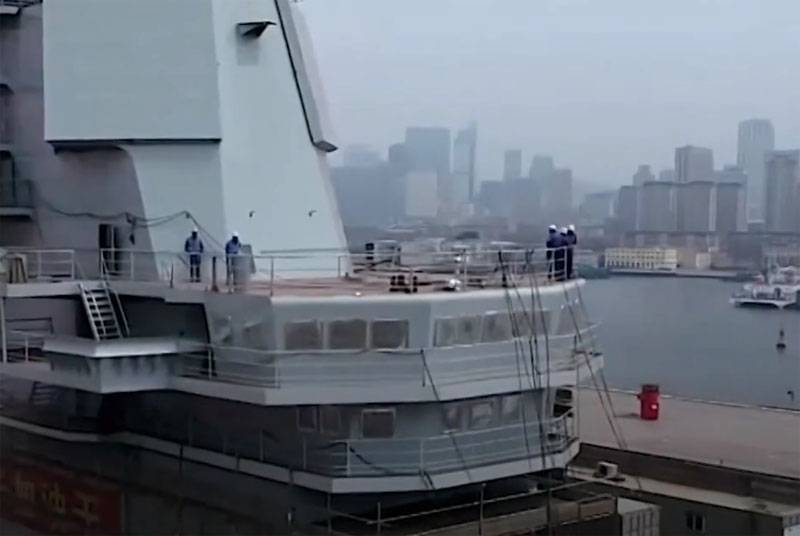 In American sources, materials appeared that presented data (including satellite images) about the "disappearance" of the Chinese aircraft carrier Type 003 under construction from the shipyard. This aircraft carrier was laid down at the Jiannan shipyard in Shanghai.
In the United States, they began to hypothesize where the Chinese aircraft carrier "disappeared".
Recall that Type 003 is the 3rd aircraft carrier being built in China. The first of the built has already been put into service with the PLA Navy under the name "Shandong."
Among the American versions about the fate of Type 003, one appeared:
China could refuse to build a new aircraft carrier or postpone work in connection with the problems that China has with the creation of the J-31 carrier-based fighter. This China fighter belongs to the fifth (in the Chinese version - to the 4th) generation of fighters.
However, the Chinese media reported that the Type 003 aircraft carrier under construction did not disappear. It is transferred to a closed dry dock, where one of the phases of its construction will be carried out, including the installation of certain equipment. It was for the reason that the ship under construction was in a closed dock that it "disappeared" from the field of view of American spy satellites.
China intends to build a total of six aircraft carriers in the coming years. Moreover, the first series of aircraft-carrying ships according to the project has a deck with a springboard, and the second is flat. Type 003 aircraft carrier in China is planning to put into service by the end of 2021. The declared displacement of this ship is about 80 thousand tons. At the same time, its power installation in the project is designated as non-nuclear.