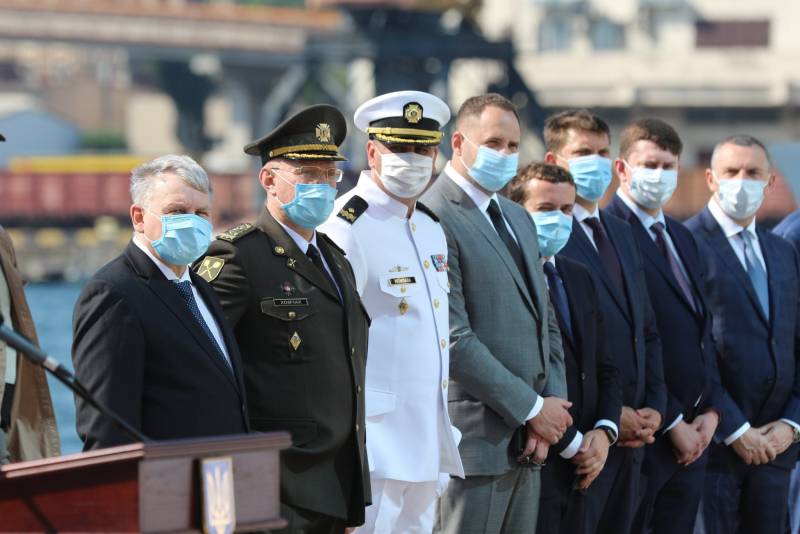 During the celebration of the Day of the Naval Forces of Ukraine, the commander of the Navy, Rear Admiral Alexey Neizhpapa made a resonant statement. It was published by the Odessa portal "Duma".
According to the Ukrainian rear admiral, Ukraine is preparing for "a possible Russian invasion from the south." Neizhpapa:
We are preparing for a full-scale military confrontation.
The commander of the Navy of the Armed Forces said that if such a confrontation occurs, there will be many losses, both from the military and from the civilian population.
Neijapapa:
Many of us do not understand this, although the war has already been going on for the 7th year.
Odessa reporters asked the commander of the Ukrainian Navy his thoughts about the "possible Russian breakthrough from Crimea to the Kherson region in order to let water into the North Crimean Canal." Neizhpapa said that he did not rule out such a development of events.
After this, Neijpapa once again recently announced that Ukraine has a "formidable
weapon
"In the form of the Neptune missile system. Ukrainian Rear Admiral:
We have the opportunity to use this complex from mainland Ukraine on the approaches to Sevastopol.
According to Alexei Neizhpapa, as soon as the country's Navy understands that "the Russian Empire will begin to pour financial resources into the restoration of the canal in the Crimea, this will be a signal for a full-scale confrontation." Neijpapa added that he called Russia an empire, since "the dictator is at the head."