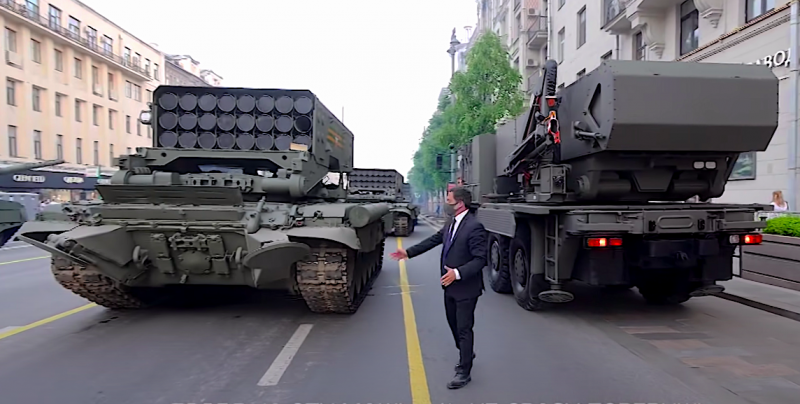 Four seemingly plain-looking trucks equipped with containers with launchers were one of the most interesting novelties presented at the military parade in Moscow. TOS-2 "Tosochka" is a completely new embodiment of multi-barrel thermobaric missile systems. Her volley in a few seconds is able to kill absolutely everything living in an area of ​​about 40 square meters. m
Paths of battles and evolution
This is how the product of the analysts of the Polish edition of Defense24 presented at the Victory Parade is described. It tried to track the evolution of Russian military equipment, which resulted in the "Tosochka."
According to the publication, the damaging effect of shells launched from the system is based on the formation of fog from drops in the air, followed by ignition of the mixture, which quickly devours oxygen from the air. This not only leads to a rise in temperature, but also causes a shock wave, after which there is a "murderous vacuum".
The first product on a tank chassis designed for such an effect was TOS-1, which was baptized in Afghanistan and fought in the Caucasus. During its operation, the TOS-1A was developed, which still serves the Russian army. It has a smaller number of guides (24 instead of 30), but has an increased range (not hundreds of meters, but over 3 km) and accuracy of fire.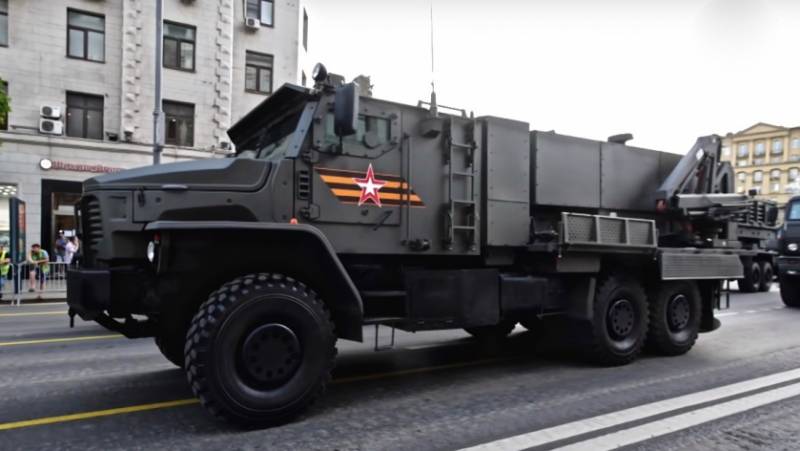 Bet on mobility
With the operation of TOS-1A on the Syrian front, the need has ripened for further development of the system. The option presented on Red Square uses a no longer tracked chassis
tank
T-72A, and is located on the basis of the Urals-63706 from the Tornado-U family, which can accelerate to 100 km / h. According to Defense24, the new platform provides high mobility and the ability to transport air.
Most conflicts occur today in areas with a more or less developed road network, and the advantages of mobility and range of fire outweigh the solid armor provided by the tracked chassis
- believes Defense24.
The authors of the publication, having studied the photographs, believe that the new system has not 24 declared, but 18 guides (3 rows of 6 missiles). However, the main novelty is the presence of a crane, which allows independent loading of ammunition. This makes it possible to abandon TZM.
The fire control system has also been modernized due to automation and the appearance of wind sensors, rangefinder and equipment that measures, in particular, the speed and trajectory of the projectiles. Improving the SLA and its integration with command control systems and GLONASS increased the range of fire (over 6 km with a possible deviation of 10 m).
This allows you to effectively hit targets and avoid direct enemy fire
- considers the publication.
Summing up, Defense24 suggests that the new product testifies to changes in the tactics of using thermobaric systems by the Russian military.
They [systems] have acquired mobility and flexibility both at the tactical and strategic levels, since they can be quickly transferred to the theater of operations
- concludes Defense24, also pointing to a significant drop in the cost of TOC due to the transition to a wheeled chassis, which may open foreign markets in front of it.