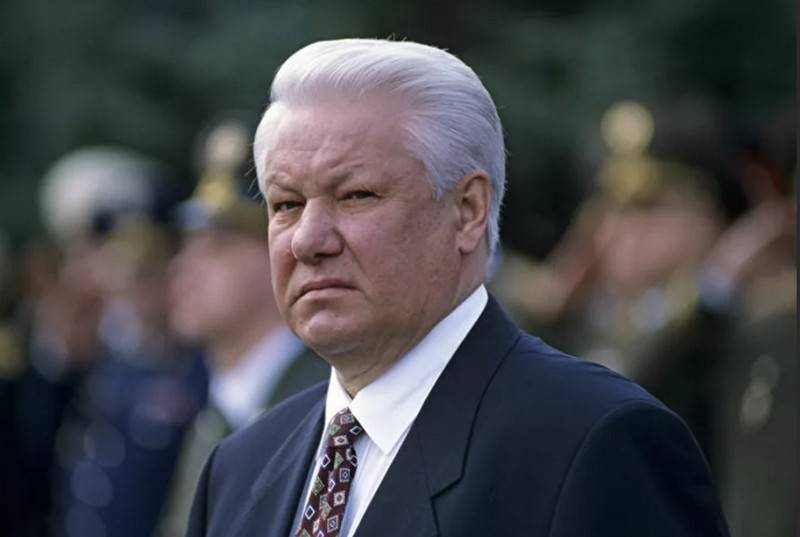 Today in Russia is an ambiguous date, not a holiday at all, but exactly twenty-four years ago - on July 3, 1996 - the first president of the country, Boris Yeltsin, was re-elected to the second line. To Russian
history
those choices came in as the dirtiest.
If someone does not remember, and many of the readers of Military Review are quite young and did not find those times, on July 3, 1996, the first president of Russia, Boris Yeltsin, was re-elected for a second term, ahead of his opponent from the Communist Party, Genadiy Zyuganov. Moreover, at that time Zyuganov represented not just the Communist Party, but was a candidate from the left opposition.
The 1996 election campaign is called the most exciting and dirty in Russia. At that time, the Internet boom began in Russia and the presidential candidates in Russia took full advantage of this, launching all sorts of, as it is now called, flash mobs in their support. Yeltsin's election program, which was held under the slogan "Vote or lose," relied on the fact that if the Russians chose the Communists, the country would again be left without food, again there would be no food on the shelves, etc. At the same time, on television, the people were promised a "bright future" that would come with Yeltsin.
Vigorous and active, 51-year-old Gennady Zyuganov was considered to be a complete retrograde, personifying a return to the past, and his opponent, an openly decrepit 65-year-old rival, who suffered about five heart attacks during the campaign, was Russia's only hope for a bright future
- writes "Gazeta.ru"
In his election program, Yeltsin "played for the people," using the media to the full. At that time, political scientists or PR specialists who spoke on the side of Yeltsin spoke out against the Communists in all directions, they constantly sounded from the screens: "Vote, or you will lose!", "God forbid!", "Buy food for the last time!", The main thing The slogan of the election program of the first Russian president was: "Choose with your heart."
Yeltsin himself, who remembers, "went to the people", rocked on a swing, participated in various holidays, ridiculously danced with singer Yevgeny Osin.
The result of the election was that Yeltsin still went for a second term, although the voting results were mixed. According to the election commission, he took first place, ahead of Zyuganov by 13,5%, gaining 53,8%. The main struggle was for the interest of Alexander Lebed, who took third place in the 1st round. In fact, these 14,5% decided everything (except for the "calculation methodology", to which there were, to put it mildly, complaints). General Lebed, as is commonly believed, gave his votes to Yeltsin, changing them to the post of secretary of the Security Council.
Well, at the end of the joke that went after the elections:
The chairman of the Central Election Commission Ryabov calls Yeltsin the morning after the vote.
- Boris Nikolaevich, I have two
news
: one is bad, the other is good.
"Well, start with the bad."
- Boris Nikolaevich, Zyuganov scored 52%.
"And what can be good now?"
- You are ahead of him with a huge advantage ...