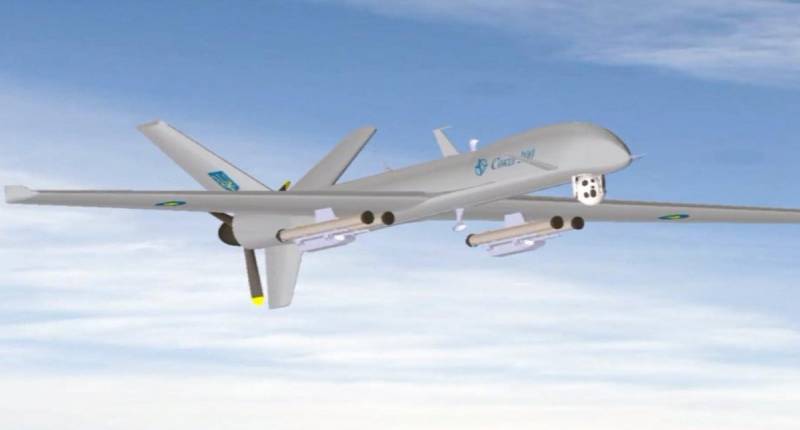 The Ukrainian defense industry continues to present its latest developments. This time it is announced the creation of a percussion
drone
middle weight class.
The head of the Ukrainian state-owned enterprise Luch, Oleg Korostelev, who is also the general designer, spoke about the new creation of the military-industrial complex. According to him, the first Ukrainian strike UAV, which received the designation "Falcon-200", is planned to be presented in October this year.
He will be able to carry weapons (launchers with 4 missiles) weighing about 200-250 kg. The flight duration of the car will be approximately one day. As a power plant, both a piston and a turboprop engine can be featured. It is proposed to use the RCP-360, which has already been attached to the Neptune anti-ship missile system, as a control point.
I believe that it is quite realistic to take such an aircraft into service in a year and a half. Start flying there, after nine months, and leave another 8-9 months for all test work and development
- noted Korostelev.
For our part, we note that the UAV announced by Luch design bureau is almost identical in appearance to the Turkish Anka UAV (perhaps the only difference is the presence of flaps at the Sokol-200). Moreover, the payloads of the two vehicles coincide (Anka also carries up to 250 kg) and flight duration (up to 24 hours).
You can also take into account that some types of Turkish military equipment have been delivered to Ukraine. Among them is the Bayraktar TB2 UAV, a batch of which was completely shipped in 2019. In this regard, the sale of the independent and Turkish Anka is quite possible.
As a result, taking into account the state of the Ukrainian military-industrial complex, it can be assumed that in fact we are talking either about the licensed assembly of Turkish cars, or, more likely, about their direct purchase with the subsequent presentation as Ukrainian UAVs.
UAV "Anka" and its performance characteristics: