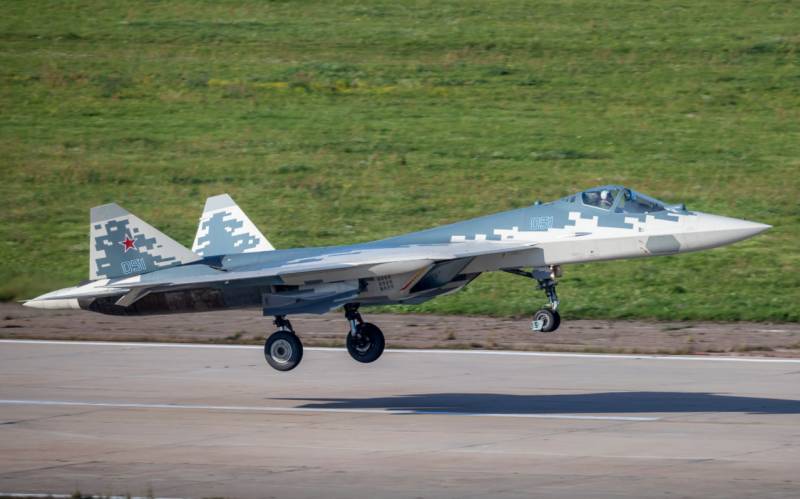 The Bulgarian military-themed portal Bulgarian Military, citing Indian sources, writes about India's plans for fifth-generation fighters. At the same time, the publication voiced somewhat strange information.
The authors in an article dated July 2, 2020 write that India "may abandon the Russian Su-57 in favor of the American F-35." The strangeness, at least, is that India has not yet expressed intentions to acquire a fifth-generation Russian Su-57 aircraft, which, by the way, is not yet in service with the Russian aerospace forces.
Recall that the Indian side withdrew from a joint project with the Russian Federation to create the newest fighter - FGFA, putting forward a series of claims: from high cost to "not corresponding to the fifth generation fighter
aviation
engines. "
From the article of the Bulgarian edition:
According to some reports, the cost of the updated version of the Su-57 will vary from 150 to 200 million dollars, and given the fact that India plans to acquire several hundred fifth-generation fighters, it is obvious that we are talking about billions of dollars.
From where the authors of this material have data on "200 million dollars" for a Russian plane, one can only guess.
At the same time, a further phrase indicates that the publication takes its numbers, as they say, "from the ceiling":
Given that the export value of US F-35s is about $ 120-140 million, and this combat aircraft was spotted during military operations, India is likely to truly abandon Russian fighters.
At the moment, the export value of the American F-35, according to the official data of the American manufacturer, has fallen below $ 100 million. True, there is one caveat - this price does not take into account the future ultra-expensive service of the fifth generation fighter. One update of its software costs several million dollars annually, not to mention the logistics of component supplies.
An important point: are the United States ready to supply its F-35s to India, given its contract with Russia for the supply of S-400 air defense systems?
It is believed that a few more years will pass, and in the press, including the Indian, they will still reflect on which version of the Indian fighter to stop at. At the same time, the Chinese neighbor of India will have at its disposal dozens (or even hundreds) of new generation fighters.