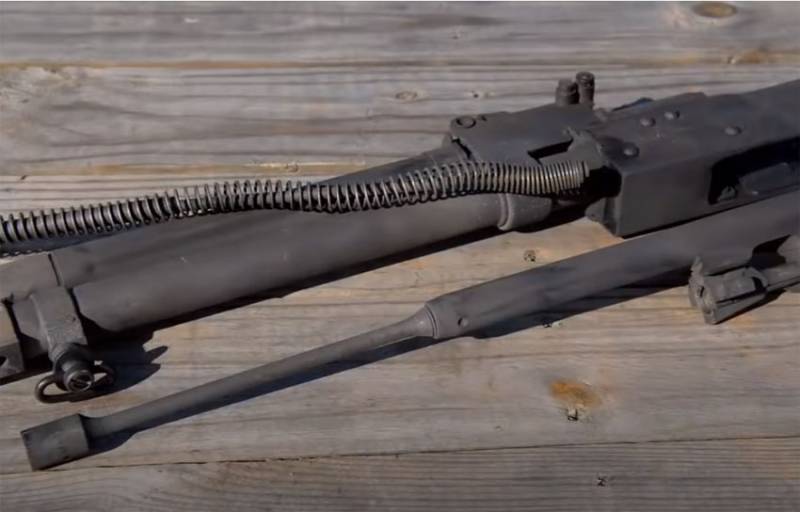 Not so long ago, a series of videos dedicated to the worst copies (licensed and unlicensed) of Kalashnikovs appeared on the network. The most unsafe in the first place for the shooter included Chinese versions of Soviet automatic rifles.
A really weak spot of a number of foreign Kalashnikovs is the option of firing in long bursts. Rifle Mechanism
weapons
foreign production is such that it often fails, which leads to the following effect: the cartridge is sent to the chamber at the moment when the machine had not yet had time to "work out" the previous ammunition. In some cases, this literally leads to a gap in the area of ​​the receiver. One of the reasons is called low-quality metal used in the manufacture of weapons.
This is exactly the option shown on the video.
Shooting is from a standing position. Already 3-4 seconds after the start of firing a long burst of weapons literally carries in the hands of the shooter.
At one time, China launched a mass production of Type 56 assault rifles. This is a licensed copy. This clone of the Kalashnikov assault rifle is still being produced. At the same time, unlicensed copies of the famous Soviet weapons began to appear, which many, of habit, call "Chinese", although they appear in various countries, including Iran and certain African states.
What the shooting is being fired from does not look like a licensed version of the AK - the Type-56. A copy of the AK burst when fired:
Chinese guano pic.twitter.com/mRYhSlI9bB

- Specnazopedia (@ gunfighter2020) July 1th, 2020
One user suggested that the cartridges "threw explosives."