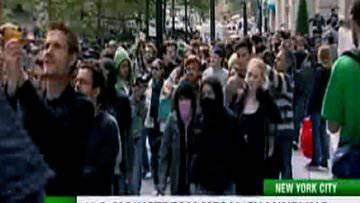 In the years before Senisha Milavanovich came to America, he watched the movie National Vacation Christmas Vacation with his wife. When 1989's comedy of the year satirically showed the typical American family in the light of Christmas lights, Milavanovich laughed - but not only at the funny antics of Chevy Chase. He told this American Life radio journalist that the very idea of ​​decorating his house with Christmas illumination seemed like a joke to him. "When you watch comedies, you understand that everything is exaggerated to make it funnier. When I watched the movie, I thought it could not be true. Too many lights," he said in 2010 on this radio program.
Imagine the surprise of Milavanovich when he moved to Fargo, North Dakota, and on a December evening he drove into the street on the outskirts of the town. "Some had not only flashlights, but also lamps," he told the reporter about his first, stunning Christmas in America. "And we said to each other - they actually decorate their houses like they did in the Chevy Chase movie!"
This American Life program, which spoke to refugees displaced in the United States — most of them from conflict zones — found that foreigners were shocked by a number of things that Americans consider common: public expressions of sympathy, high levels of obesity, families giving their elderly parents to the elderly, the owners kissing their dogs, the widespread ownership of their own
weapons
. "Look quickly and do not turn around any more," the Iraqi father says to his children in horror when an armed motorcyclist passes by their car. The children, frightened by the fact that so far they considered weapons as belonging only to the police and criminals, asked: "But why does he have a gun? What does he want to do?"
Many foreign visitors to the United States may seem so unpleasant and strange place that guidebooks describe everything in detail: from the risks of starting a conversation about politics to advice to respect the notorious personal space of Americans. However, what do they discover when they get to America? This American Life program interviewed representatives of a relatively narrow stratum of foreigners, but the discussion on the Quora website goes beyond the radio segment and asks Internet users around the world to tell what surprised them in America.
Users tell their own
stories
, and some accounts are anonymous, so it's difficult to determine if any of the stories are exaggerated or even untrue. However, there are a number of regular topics (they are amplified by my personal impressions of the stories of expatriates familiar to me in the USA), which can tell both about the people who come to the USA and about America itself.
Incredibly well-stocked supermarkets:
if you've ever been to grocery stores in developing countries, you can probably understand what many foreigners feel when they first find themselves in a shining American store filled with deliciously fresh produce of any season, regardless of the current time of year. A friend of mine from South Asia separately noted the "diversity" of food products, and some even wondered incredulously what was happening with products that were not sold.
Americans actually love their state flag:
for an American like me studying at school, where every morning they put their hands on their hearts and swear allegiance to the US flag, it seems to be a normal thing, even banal. However, in other countries it is less common, and I learned that students who studied abroad find it startling and even unhealthy. A Quora reader from Brazil added that he was surprised by "the number of American flags that are visible everywhere, from every place, in every city I visited."
They also love God:
"Americans are much more religious than I ever could have imagined when watching American television," a friend from Pakistan told me when I asked her what surprised her on her first visit to America. User Quora from Ireland writes about "prayer breakfasts in the White House. Educated people believe in the doctrine of the creation of the world. A huge number of churches and denominations. People really go to church."
In the sense - you can not bargain ?:
In many parts of the world, prices for almost everything depend on how you agree, but in the United States this opportunity is limited only by the market for used cars and newspapers for electronic ads. I heard a lot of stories about how foreign buyers perceived the cashier's refusal to bargain as simple flirtation. One Quora user talks about his Russian relatives: "On sales and even in restaurants, the fact that bargaining is impossible, upset them a little and surprised them a lot."
So much unhealthy food - if it is, of course, generally called food:
An Indonesian friend reflected on the popularity of "synthetic foods", from "bekonesa" (
Baconnaise is a kosher product based on mayonnaise with bacon flavor - approx. per.
) and Light Lime-a-Rita (
beer with lime and cocktail margarita
) to sprayed butter (
which in fact is not oil
). Visitors to the site from different parts of the world say they were horrified by the size of the portions; One person from Eastern Europe (in which, in my feeling, they give gigantic portions) said that he still had to share restaurant portions with his wife. Some Quora users from India describe their horror at the abundance and availability of American food. Some were surprised by the possibility of a free supplement. "Even in most McDonalds and KFC restaurants outside the US, this is not the case." Another user was amazed that "the remaining food can be taken home from the restaurant in a box."
Magic "culture of convenience":
"Everyone knows about the American convenience culture: 24-hour stores, fast food, good day," writes one user, associating "convenience culture" with "American culture" a little more closely than it would be flattering. "This is rather pleasant. McDonalds in a shopping center in Beijing or Brazil is a hell. But go have breakfast at McDonalds restaurant in Los Angeles, and all this will surprise you: design and appearance, food, staff behavior. Not a clumsy formula, but culture of life. "
There is poverty here too:
"In fact, it's hard to believe," writes one of the users that there are hungry children in the richest country in the world. Another writes: "San Francisco is probably one of the richest cities in the richest country in the world. I expected to see wealth. I did not expect to see such poverty. And with each of my visits the city looks worse and worse." An Iraqi refugee interviewed by This American Life was so surprised when he saw a homeless woman in New York's central park that 911 called, suggesting that she was sick, injured — anything but American in America.
How do they make everyone follow the rules of the road ?:
Taxi driver quoting is sometimes considered a specimen of lazy journalism, but there is one important general tendency that I discovered among migrant taxi drivers working in the US and taxi drivers who come to see the States: their surprise at how diligently American drivers follow traffic rules. Compared to America, driving in many cities in the developing world is similar to orderly chaos - drivers ignore not only the red traffic lights and speed limiters, but also dividing lanes, and even the direction of travel. If you go to Cairo and rent a car (note: do not rent a car in Cairo!), You will have to follow the standard "every man for himself" drive if you want to get anywhere; and you will drive as if you were in the States - you will never even leave the parking lot.
The miracle of American roads, as outsiders call it, is that it only works if everyone follows the same written rules and unwritten norms. And everyone follows.
None of what I saw in the TV series "Friends":
The United States is as famous as the country may be. People around the world will recognize America through films and television shows that dominate the global entertainment culture. However, these media descriptions sometimes only reinforce rather than dispel delusions. One of my Chinese friends once said that, of course, young Americans change their passions every week, because she saw it in Friends, Sex and the City, and in many other TV shows. They all can not lie.
None of what I heard in my homeland:
Quora's another quotation reflects how vaguely the world represents some American social customs, especially our practice of putting the elderly in nursing homes:
"Many Indians are surprised to learn that so many Americans really love their parents, siblings, wives and children, and maintain normal, healthy relationships with them. Our media convinced them that Americans are very selfish, kick their children from home after school, do not care for their parents and divorce their spouses.And I swear this is actually true: many Indians do not believe that this is not true - until they themselves go to the States and see examples of good healthy family relationships. I have had heated arguments with people who have never been to the States, but can lecture on how family values ​​are defiled in the United States. "
Where are the cowboys ?:
Often, America, seen in films, has a better reputation than real America. A Quora guest from Eastern Europe experienced an extreme form of such surprise: "When we fled from Czechoslovakia (which was still communist at the time) in 1981, I was only eight, and I thought that America still looks like it was before 1900 of the year - Wild West, gold rush, and so on. Maybe it was all that was shown on TV? In any case, I expected to see horses tied to poles near the post office or mixed goods store. Imagine my surprise! " This is all - the fact that even such a famous country as America, in this sense, is similar to all other countries: you will not recognize it until you see it with your own eyes.