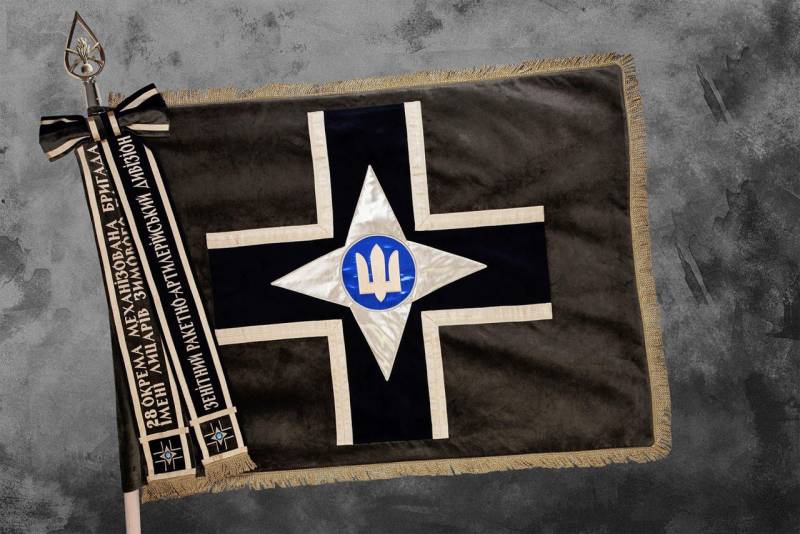 The network is discussing the introduction of new symbols of the 28th separate mechanized brigade of the armed forces of Ukraine. This team has already attracted attention - upon receipt of the "honorable" name - the Ombre named after the Knights of the Winter Campaign. The new discussion is connected with what is depicted on the flag of the 28th APU brigade received these days by the Ombre command.
This is the so-called "Iron Cross", which will henceforth be worn by servicemen of the 28th Armed Forces brigade on the sleeve patch (chevron).
It is noted that while flags of this kind do not have official status, however, Ukraine is preparing to consider an appropriate bill that aims to ensure that the symbols are recognized at the state level. A strange phenomenon: the symbolism does not have an official status, but on the other hand, military personnel are already ordered to use such chevrons on their uniforms.
Earlier, the "brigade flag" received the Ukrainian armed group "Cold Yar." This name has for some time been the 93rd APU brigade.
The new symbolism of the 28th mechanized brigade is a black cross with white edges. The Armed Forces Command declares that this symbol "refers to the award of the fighters of the Ukrainian People's Republic of 1917-1921." At the same time, Ukrainian users, commenting on the new emblem of one of the units of the Armed Forces of Ukraine, note that to a greater extent it refers to completely different armed groups, and the words about the UNR are only an attempt to "dust the brains of those who perfectly understand which direction the Ukrainian army is leading and all of Ukraine. "