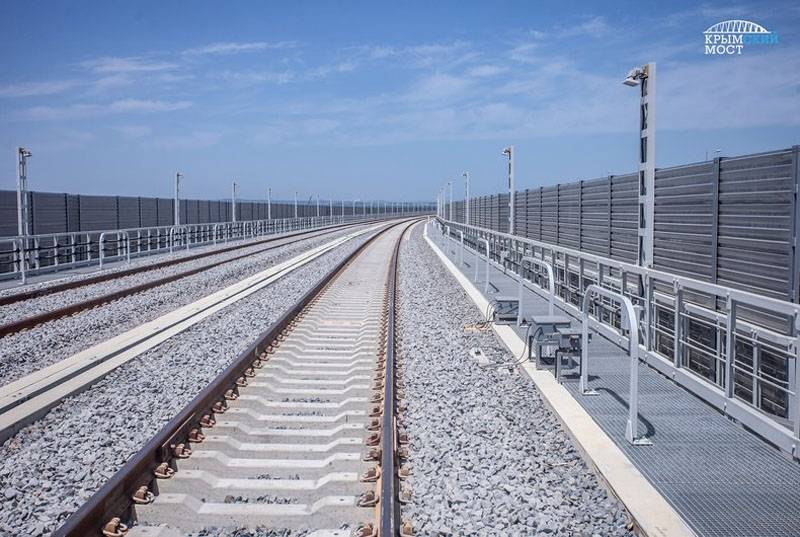 Today is another important date related to the construction and operation of the bridge connecting the Crimean peninsula with the Krasnodar Territory. The information center of the facility reports that on June 30, 2020, the movement of freight trains opens on the Crimean bridge.
Thus, the bridge switches to a full-scale operation mode - the movement of automobile (passenger and freight) vehicles, as well as the movement of trains - passenger and freight.
The movement of freight (freight) convoys will be opened with the participation of the heads of the Crimea and Sevastopol Sergey Aksenov and Mikhail Razvozhaev, as well as the head of the Ministry of Transport of the Russian Federation Yevgeny Ditrich.
Two freight trains will pass along two tracks of the Crimean bridge railway in opposite directions. They will become the "pioneers" of the movement of freight trains on the new bridge connecting the Crimea with the Kuban.
Information center of the Crimean bridge reports that the operation of the transport infrastructure is in full swing. In two years, about 9,5 million cars, including more than a million trucks, drove over the bridge. Savings at sea crossing amounted to over 35 billion rubles, not to mention thousands of hours of time.
According to last year, about 7,5 million tourists visited Crimea, more than half of which took advantage of the Crimean bridge. Among tourists - and several hundred thousand Ukrainian.