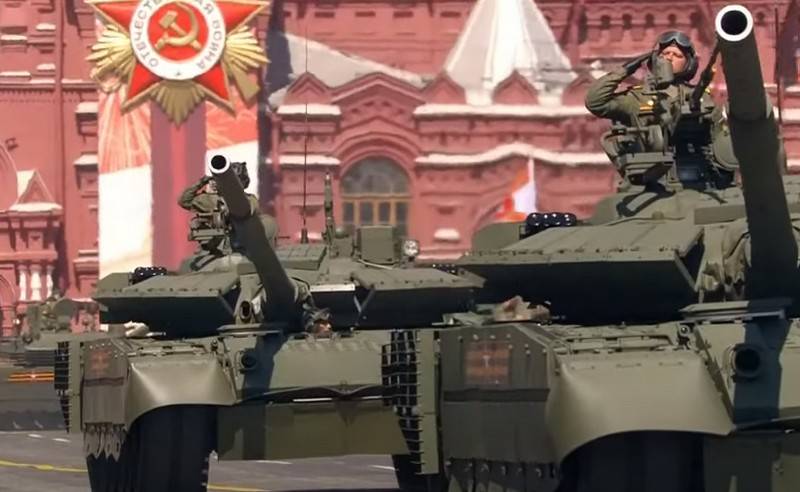 Moved from May 9 to June 24 in connection with the coronavirus pandemic, the Victory Parade was pleasantly surprised. And not only the presence of military equipment from the Great Patriotic War, but also the presentation of new models. About this writes the Chinese edition of Huanqiu Shibao.
The author of an article published in a Chinese publication notes that the past Victory Day parade was large-scale, in which about 14 thousand military personnel and 225 pieces of military equipment took part. Moreover, he emphasizes that along with
historical
Equipment on Red Square also covered modern types of weapons, which had just begun to enter the Russian army.
The author was especially delighted
Tanks
T-90M "Breakthrough" and T-80BVM. He noted that against the background of the latest Russian T-14 Armata tank, which was not yet adopted for service, the presented T-90M and T-80BVM tanks are the most effective and meet modern requirements.
The T-90M tank, which is a modification of the T-90, has high combat efficiency and meets the operational requirements of the Russian army for the period of replacement of military weapons
- the author of the article writes.
Another "deadly machine" that aroused the author's admiration was the latest TOS-2 multiple launch rocket launcher system (MLRS) on a wheeled chassis. He notes that the designers refused to use the T-72 tank caterpillar chassis in the new machine, thereby reducing the deployment time of the system and increasing the speed of movement.
Among the other innovations noted in the publication, a new engineering system for remote mining, new air defense systems, such as the S-350, Buk-M3, and Shell-SM systems, is reported. Also, the Chinese journalist and armored car K-4386 "Typhoon-Airborne Forces", self-propelled anti-aircraft artillery system "Derivation-Air Defense" did not ignore.
Thus, the author sums up, Russia at the Victory Parade not only showed historical equipment, but also demonstrated the latest developments in the field of weapons, which will soon enter the Russian army. And some samples
weapons
have long been in service, just have not previously been demonstrated.