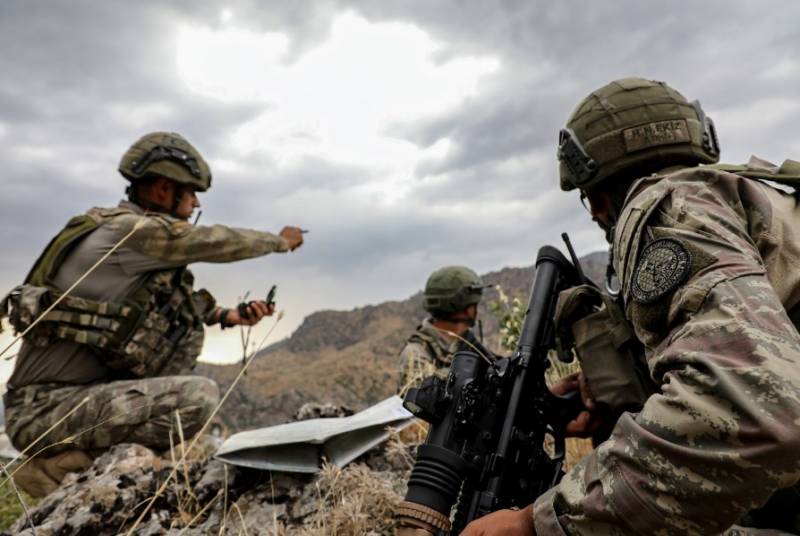 Turkish Armed Forces successfully carry out Operation Tiger Claw in northern Iraq. In particular, in the Haftanin region, the Turkish military managed to eliminate nine fighters of the Kurdistan Workers' Party (PKK).
A message about this operation appeared on the official Twitter of the Ministry of National Defense of Turkey.
It says that the destruction of the militants involved in the Turkish special forces. They carefully examine each cave in search of shelters, where representatives of Kurdish armed groups are hiding:
Our heroic commandos continue to destroy the nests of terror. Our fighters who entered each cave looked under every stone, found and neutralized another 9 PKK terrorists hiding in the area.
Operation Tiger Claw was Ankara's response to increased shelling and attacks on Turkish army positions from northern Iraq. The decision to start it was made on June 17.
Military first
aviation
struck at 150 sites of the Kurdistan Workers Party. The Turkish army used F-16 aircraft, helicopters and attack drones.
Also involved in anti-aircraft missile systems and self-propelled installations "Storm".
After the air raids, special forces were sent to the points of strike for final stripping.
In Baghdad, the Turkish operation is considered a violation of the sovereignty of the country.