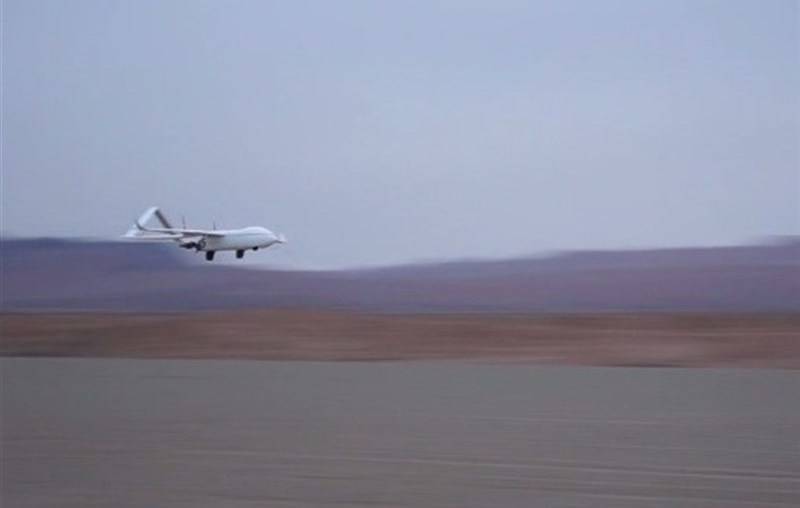 Despite the isolation and opposition of the collective West, led by the United States, Iran continues to develop and manufacture military equipment. As reported
news
Tasnim agency, Iranian experts have developed a new reconnaissance drone.
According to the agency, on Saturday, the Islamic Revolutionary Guard Corps (IRGC) demonstrated the latest in domestic industry, including the new Miraj-1 (Me'raj-1) reconnaissance unmanned aerial vehicle (UAV). According to published information, the UAV has a weight of 35 kg, a wingspan of 3,6 meters and is capable of rising to a height of over 3,5 km (3650 meters). At the same time, the drone is able to be in the air for more than 10 hours, developing a speed of up to 140 km / h. Data transmission is carried out at a distance of up to 150 km.
In addition, the drone can carry an additional load of up to 5 kg, without specifying what kind of load may be. There is a possibility that the drone may carry certain weapons, but this information is not officially confirmed.
Among the other innovations presented by the commander of the land forces of the IRGC, Major General Hossein Salami, were the BTR-50, which is a modified version of the Makran armored personnel carrier with a new turret and an improved hull; So'ban-1 machine gun - a modified version of the Russian RPD machine gun and ground-based radar system used to detect landmines and roadside bombs.