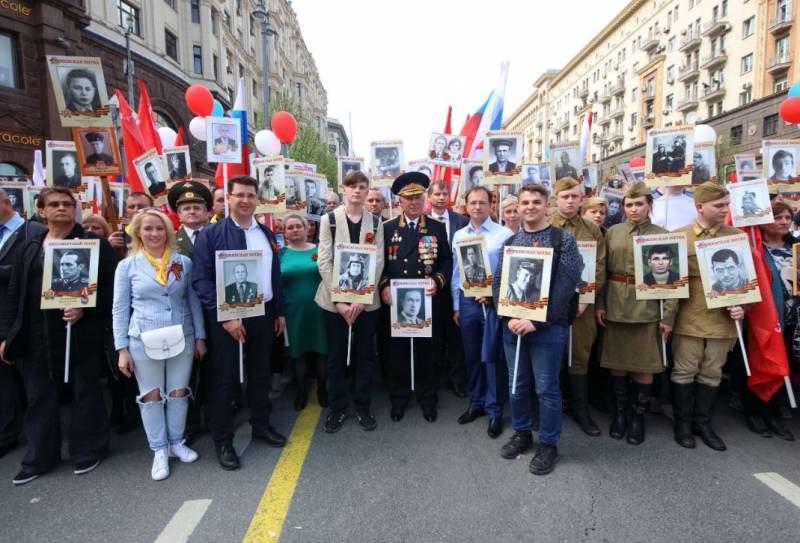 In the USA, they thought about the increased attention of Russia to the Second World War. Even phrases appeared about the "obsession" of Russia with World War II. An article about this was published by The Christian Science Monitor.
The author of the article, Fred Vir, considers Russia to be the only country in which over the years the memory of the war not only does not subside, but also, on the contrary, acquires an increasingly vivid character.
Fred Veer has no doubt: World War II brought the USSR much more pain than in other states. The Soviet Union paid too high a price for victory in the Great Patriotic War so that this could be forgotten, at least in the foreseeable future.
The indisputable truth is that World War II hit the Soviet Union much more painfully than the other participants - leaving behind 27 million dead and the entire European part of the country in ruins. The main contribution to the victory over Nazi Germany was also made by the Red Army,
- emphasizes the American author.
In the vast majority of Russian families, any of the representatives of the older generations in any case participated in the war or contributed to the labor front. Celebrating Victory Day, modern Russians pay tribute to their own relatives who participated in the Great Patriotic War.
However, according to a number of experts quoted by the American author, increased attention to the events of 75 years ago may also mean a certain "crisis of legitimacy" among the current Russian authorities. But is it really so?
Rather, we can say that the victory in the Great Patriotic War has become one of the cornerstones of modern Russian civil identity, which has its roots in Soviet identity. Indeed, in one order, Russians and Yakuts, Tatars and Armenians, Jews and Uzbeks went to the front, and the memory of that great war and great victory today allows representatives of all the numerous peoples of the Russian Federation and neighboring countries to feel their involvement in a single historical and cultural community.