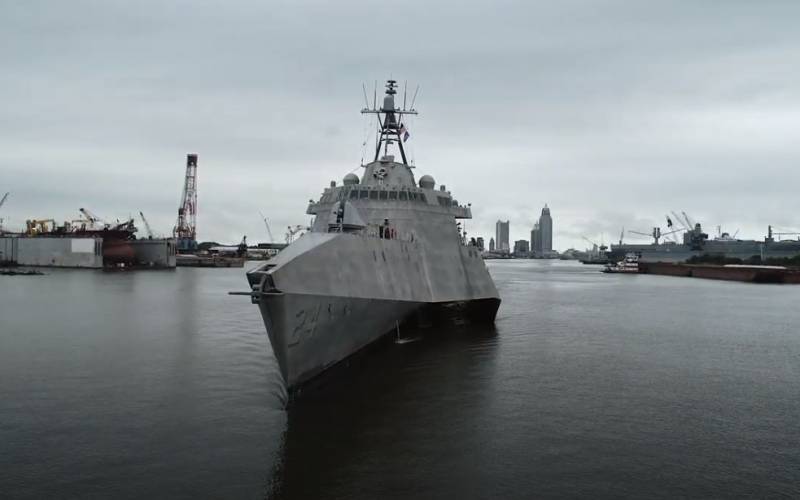 The United States Navy officially included the Auckland littoral ship, a coastal ship. We are talking about the ship USS Oakland (LCS-24), which was launched on July 21, 2019. The ceremony of transferring the warship to the U.S. Navy was held at the Austal shipyard (Mobile, Alabama) on June 26, 2020.
The ship "Auckland" belongs to the class of ships "Independence". Its final commissioning is scheduled for 2023.
The U.S. Navy notes that the ship is designed so that it is able to carry out combat missions not only in relative shallow waters of the coastal zone, but also in the ocean. In particular, ships of the "Independence" class of the US Navy are regarded as ships of support for advanced presence, deterrence and control.
At the moment, another 4 ships of a similar class are under construction. USS Oakland is a group of LCS ships. The ship, which is transferred to the US Navy, should receive a special name. He is the third ship of this class.
LCS Program Manager Captain Mike Taylor:
This is a great day for the Navy and our entire country. The transfer of the future USS Oakland to the naval forces took place. This ship will play an important role in the implementation of the future naval strategy of our country.
The ship is assigned to the naval base of San Diego.
Its length is 127,4 m, width - 31,6 m, draft - 4,1 m, maximum speed - 47 knots. The ship is armed with the Evolved SeaRAM 11 missile launcher, as well as the 110 mm BAE Systems Mk57 naval artillery mount. Equipped with electronic suppression systems. Ships of this class are classified as ships of low radar visibility.