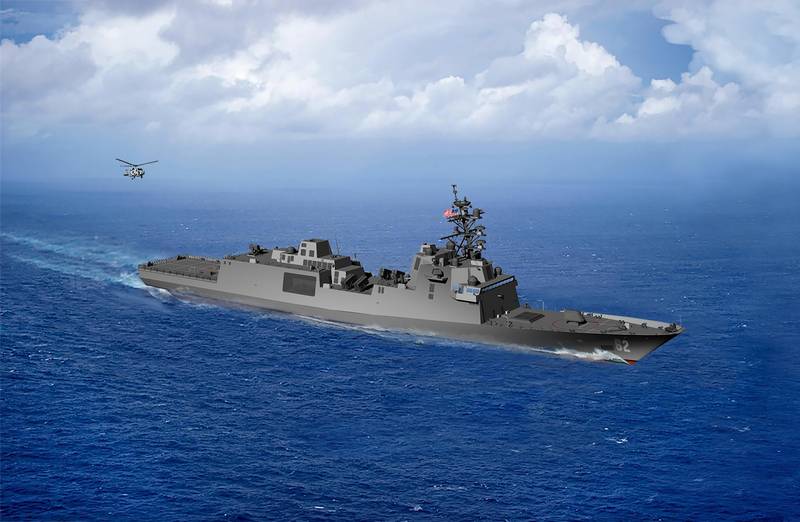 Design Image of Frigate FFG (X)
The latest frigate FFG (X), which is being built in the interests of the US Navy, will receive an advanced Aegis air defense / missile defense system and up to 16 over-the-horizon anti-ship missiles. This was announced in the US Department of Defense.
The Pentagon released an official statement Friday that revealed some of the details of the latest FFG (X) frigate being built at the Fincantieri Marinette Marine shipyard in Wisconsin for the benefit of the U.S. Navy.
Frigate FFG (X) (...) will be equipped with the Aegis air defense / missile defense system of the Baseline 10 modification, as well as up to 16 anti-ship missiles with a horizontal launch range. The ship's electronic weapons will include a new radar for detecting air targets and a sonar station with a variable depth of immersion
- said in a statement.
As previously reported, on April 30 this year, the US Navy signed a contract for the construction of the head frigate of the FFG (X) project with the Italian company Fincantieri. The contract value is $ 800 million, the construction is carried out by the American division of the company. The agreement also provides for the option to build nine more ships of this class. At the same time, Donald Trump, who visited the Fincantieri Marinette Marine shipyard on June 25, said the series could be extended to 20 ships.
Each frigate will have 32 Mk.41 vertical launchers. FFG (X) will carry the MH-60 Seahawk marine helicopter and the MQ-8C Fire Scout unmanned aerial vehicle
- Trump said, speaking to the shipyard workers.
The new frigate will be 30 times more powerful than the warships of the previous generation, and its displacement will be 7,5 thousand tons. I personally changed the appearance of the (new-approx.) Ship
- added the American leader.
The program for the construction of a new generation of frigates FFG (X) was launched by the U.S. Navy back in 2017. New frigates should replace the not-so-successful "littoral" combat ships of the LCS.