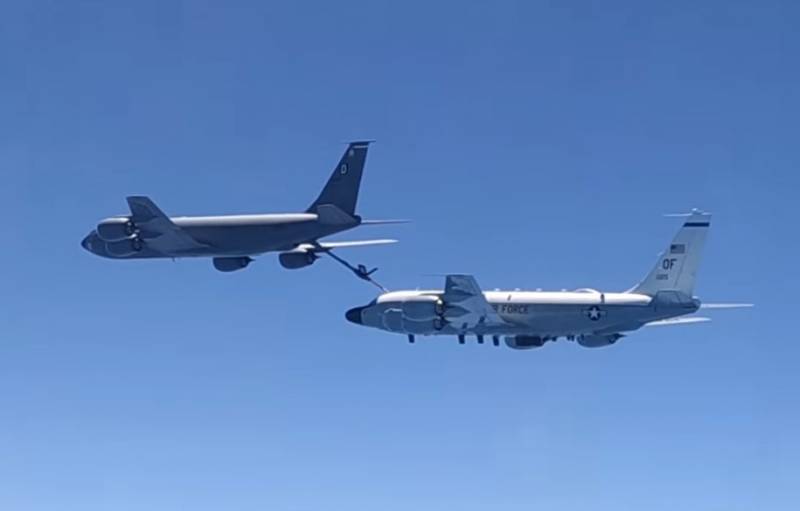 In the United States, Russian fighter escorts of the American strategic reconnaissance aircraft RC-135 and other means reacted
aviation
.
The Russian Ministry of Defense provided footage with escorting over the waters of the Black Sea. It is noted that for the identification of airborne aircraft, a Su-30 fighter of the naval aviation of the Black Sea Fleet flew into the air. He, as well as ground services, identified American aircraft. In addition to the aforementioned RC-135, there was a R-8A patrol aircraft Poseidon and the US Air Force KS-135 tanker in the air.
The Russian fighter approached a safe distance to American aircraft at the time of refueling one of them in the air. This can be seen in the presented frames.
The Russian defense ministry's release said that the U.S. Air Force was accompanied by Russian radar controls. After approaching the Su-30, American planes changed course and began flying from the borders of Russia.
In the American blogosphere, after the publication of the personnel of the Ministry of Defense of the Russian Federation, it was announced that the Russian fighter "acted dangerously during the refueling of US Air Force planes." Allegedly, the appearance of the Russian aircraft "could cause nervousness in American crews." In this case, it is worth noting that if the pilots of American planes have problems with psychological stability and nerves, then they are hardly worth flying near the borders of Russia.
The Russian Ministry of Defense notes that the flight of the Su-30 took place in strict accordance with international standards.
It should be noted that on the eve along the Black Sea coast of Russia flew an unmanned spy of the US Air Force. He entered the airspace of Georgia.