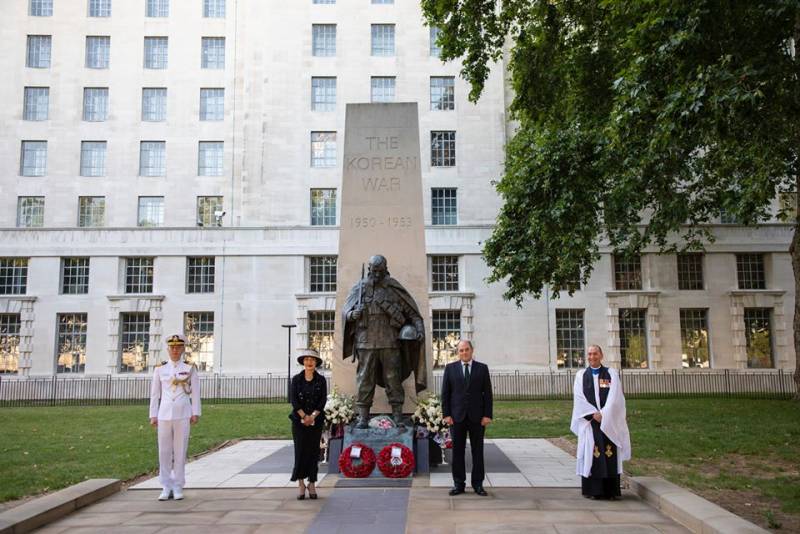 Although exactly 70 years have passed since the beginning of the Korean War, it is still not actually completed. In honor of this event, which took place on June 25, commemorative events were held in a number of countries that took part in hostilities, including in the UK.
British Defense Secretary Ben Wallace last night, along with South Korean Ambassador to London Enna Pak, laid wreaths at the monument. The ceremony participants commemorated those who died in the Korean War and expressed gratitude to all its participants.
A message about this appeared on the official Facebook page of the UK Department of Defense.
Ben Wallace, arguing about those events, said:
Losses were high, the Republic of Korea made a great sacrifice, but now the nation is thriving as free.
The Minister mentioned that in the Korean War, 80 British soldiers and officers fought in the UN peacekeeping contingent on the side of South Korea. Of these, over a thousand years of war more than a thousand people died.
On the same day, the British military held another solemn event. Sergeant Alastair Smith-Weston has his own unique perspective on honoring veterans. He organized a ball for military personnel (including former) who are members of the LGBT community. The event was also reported on the UK Department of Defense Facebook page. The fact is that the 70th anniversary of the outbreak of war in Korea coincided with the 20th anniversary of Britain's refusal to dismiss non-traditional military personnel.
This event added new colors to the discreet palette of a memorable date.
Sergeant Alastair Smith-Weston has his own unique way of honoring veterans of the UK Armed Forces. He is the organiser of the LGBTQ + Veterans Ball. 20 years since the ban on serving LGB personnel was lifted, the Ball has been a source of community for many veterans who were excluded when they served. #ArmedForcesWeek

Submitted by Ministry of Defense Thursday, June 25, 2020
True, not entirely appropriate, but you can't do anything for the sake of tolerance.