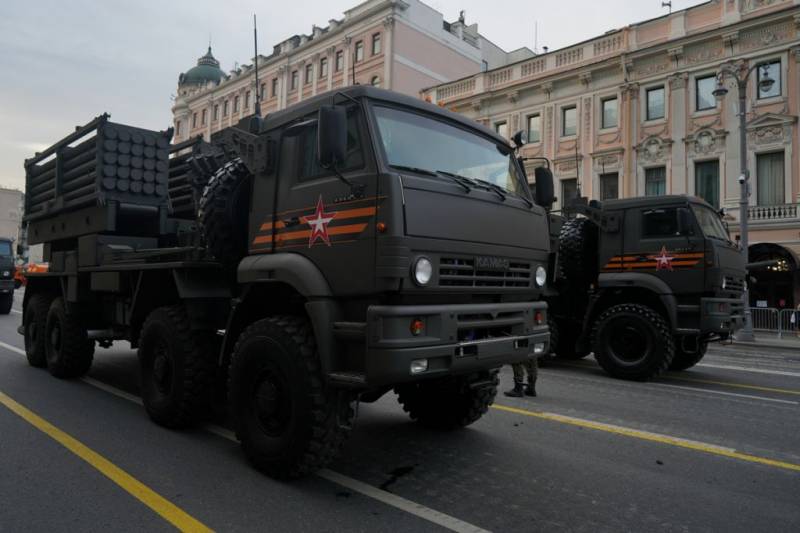 In Russia, the final stage of testing the new multiple launch rocket system "Agriculture", designed for remote installation of mines. Remote Mining Engineering System (ISDM) includes combat and transport-loading vehicles, as well as transport and launch containers.
Transport and launch containers contain engineering ammunition that meets the requirements of the Geneva Convention regarding their subsequent self-destruction.
The combat vehicle is a volley fire system with fifty guides of 122 mm caliber. It is capable of using various types of mines: both anti-personnel and anti-tank. Before the salvo set flight mission and parameters for the self-destruction of ammunition.
The range of the "Agriculture" is 5-15 kilometers, which allows mining in the safest and most maneuverable way at a remote distance.
The developer of the new technology is the NPO Splav.
It is also known that a combat vehicle can install mines of a new generation. Perhaps we are talking about the "smart" mines POM-3, which were reported back in 2016. Thanks to a special electronic filling, such mines are able to recognize targets and work only when necessary. For example, they ignore animals and vehicles and respond only to humans.
KamAZ vehicles with armored cabs equipped with air filtration and ventilation systems, as well as air conditioners, are used as a chassis for "Agriculture".
For the first time, the system was officially unveiled on June 24 at the parade in honor of the 75th anniversary of the Great Victory, which took place in Moscow on Red Square. Two combat and two transport-loading vehicles took part there. But even before that, "Agriculture" could be observed during rehearsals.
Now the Armed Forces of the Russian Federation are armed with universal mine-clearances (UMZ) based on the chassis of ZIL-131 vehicles, the maximum radius of which is 100 meters. There is also a helicopter mining system VSM-1 based on Mi-8, which can be used from a height of not more than 150 meters.
In the 70s, on the basis of MLRS Grad and Hurricane already tried to create a similar system with a range of up to 30 kilometers, but it was ineffective due to low accuracy and high cost of ammunition.
The team of authors, in terms of name, approached the process creatively. According to some reports, the "agrarian" theme prevailed initially. For example, the Sower option was proposed. But in the end, the remote mining system became "Agriculture."