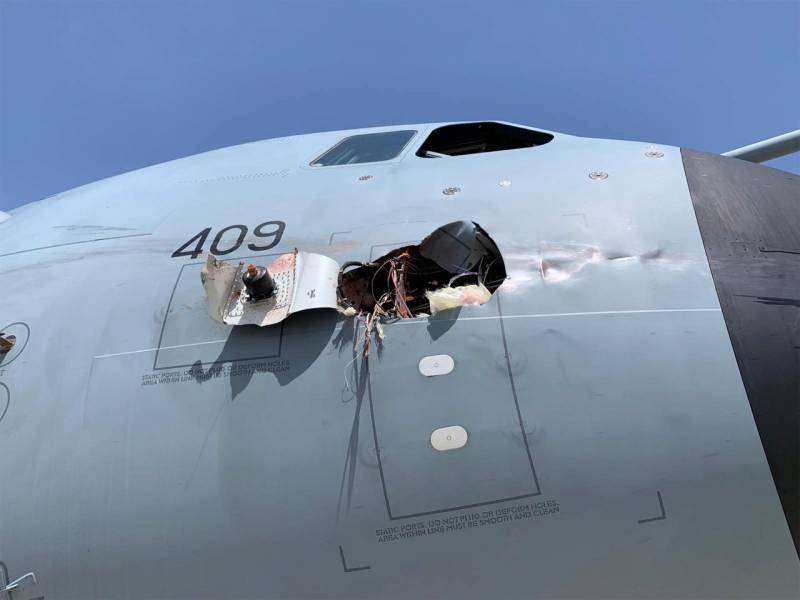 The network has images of the consequences of a collision of a military transport aircraft of the Spanish Air Force with a bird. The Spanish Air Force A400M Atlas four-engine turboprop transporter with registration number ZM409 is reported to have flown from Getafe military base near Madrid.
At the time of takeoff, a bird collided with the plane, causing very significant damage to the front of the fuselage. The photos published by the Spanish pilots on Twitter show how, in the cockpit area, the plating of a multi-ton machine is literally torn off.
At the same time, the track along the front of the hull is clearly visible, as well as the fact that a collision with a bird led to a violation of the integrity of the electrical circuits of a military transport aircraft.
Meanwhile, in the Spanish segment of social networks, injuries sustained by an airplane are being discussed quite actively.
One of the comments is from a user with the nickname Carles34:
Question from a beginner (don't crucify me for this): if a bird can strut the skin of an airplane in this way, is the airplane really ready for a gale, sand, extreme temperatures? It is clear that speed increases the effects of a blow, but here it is somehow too much.
User nickname Gabriel:
Judging by the damage, this bird could well be a vulture weighing 10-11 kg.
As it turned out, this is the second incident in several months when the Spanish Air Force plane collides with a bird and receives serious damage. Photo after the previous case: