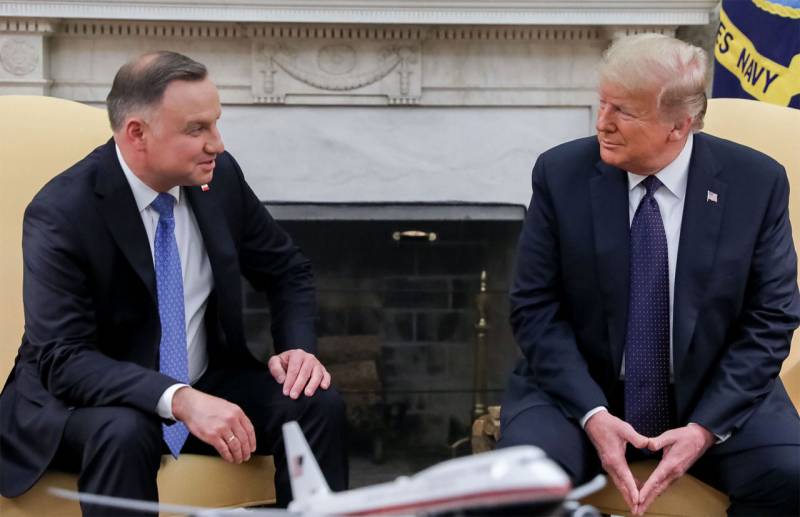 The main topic discussed in the Polish media is related to the visit of President of the country Andrzej Duda to Washington and his meeting with Donald Trump. The main purpose of Duda's visit is to discuss the deepening of Polish-American cooperation, including cooperation in the military and military-technical fields.
Andrzej Duda:
Today, Polish soldiers stand shoulder to shoulder with the American. Together we shed blood in Iraq and Afghanistan. Thank you for counting on the United States of America.
Reply from Donald Trump:
We all know how beautiful Poland is. It is a great honor for me that my friend, President of Poland Duda, is here with us. In general, he did a fantastic job. This is the third time that we have received President Dudu. I know that elections are coming up in Poland. I hope he succeeds on them.
It is noteworthy which particular declarations were signed by Duda and Trump. In addition to the agreement on the development of 5G networks, the presidents put signatures on the declaration of nuclear technology. The Polish delegation notes that under the contract Poland will be able to "create and develop nuclear power plants using American technology." It is about the US readiness to build several nuclear power units for nuclear power plants in Poland. It is noteworthy that such a decision is supported in Warsaw amid the fact that in neighboring Germany and Lithuania measures are being taken to close the nuclear power plant (in Lithuania, nuclear power plants have already been shut down in accordance with the requirements of the EU "environmental directive").
How will the European Union react to the Polish-American nuclear power plant initiative?
In his speech, Andrzej Duda thanked his American counterpart for "defending"
historical
the truth about World War II. "
Duda:
This is important for Poland, for every Pole.
It must be assumed that under the "protection of historical truth" Duda means the silence of the USA that it was Poland in the 1930s that was one of the first to sign an agreement with Hitler and that Poland invaded the Tieszyn region after the Munich agreement at the same time that Czechoslovakia included German troops.
During the discussion of cooperation issues, Trump confirmed that part of the US military contingent intends to withdraw from Germany to Poland. Duda welcomed this decision of the American president.