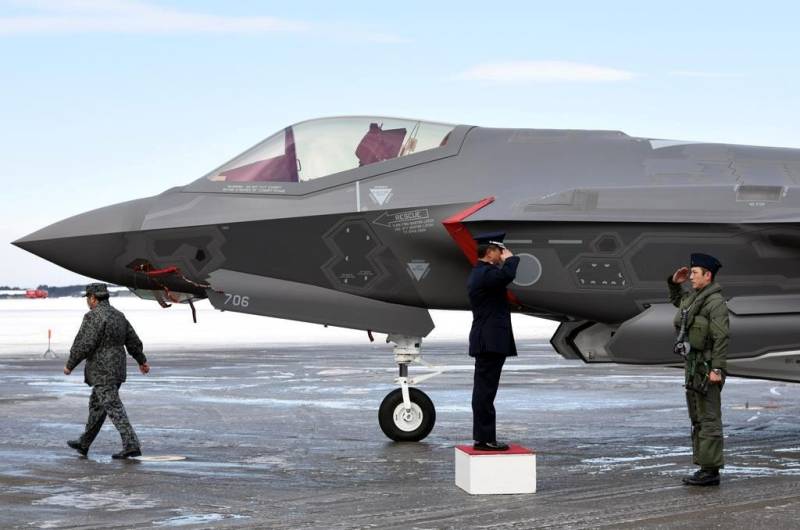 Japanese Air Force F-35A prepares for departure
In modern Japanese military strategy, things that are quite unexpected at first glance appear from time to time. Although, how to say, unexpected ... If you think about it, then there is a certain logic in the latest aspirations.
In Japan, a rather large-scale military strategy is definitely being developed, in general, of course, oriented to the USA, but providing for greater independence of Japan in a number of issues. Due to well-known constitutional restrictions, little is said about this strategy. However, the awl in a bag cannot be hidden. Many plans can be judged by the various military activities, which are reported in the open press.
Japanese Interest - India
In 2020, Japan and India were to conduct joint air exercises, in which combat aircraft were to take part for the first time. However, these exercises were postponed due to the coronavirus epidemic. The security arrangements between the two countries remain in force, and it is likely that these exercises will take place after the lifting of restrictions on the virus.
These failed exercises show the growth of Japan's military involvement in military activity in the Indian Ocean, over-duty participation in various peacekeeping operations. The Japanese Air Force is clearly preparing to operate away from its shores, not only in the South China Sea with Australia or Singapore, but further to the west. Participation in such
aviation
the exercise in India means practicing the transfer of Japanese aviation (at least a squadron) to a region very remote from Japan. This is working out flight routes, which is not easy, especially if a combat option is being worked out, which provides for bypassing the airspace of non-allied and unfriendly countries, refueling in the air, ground-based and servicing. Such experience, in principle, allows Japan, in the event of an aggravation of the situation, to transfer part of its aviation to India within about a day.
The question arises: what exactly is Japan going to defend in the Indian Ocean and how much does all this correspond to the doctrine of self-defense?
In this regard, the Japanese experts on security have an almost unanimous opinion: free shipping. Japan purchases a large amount of oil and liquefied gas from the Gulf countries, as well as raw materials and industrial semi-finished products from the countries of South Asia and East Africa. Japan purchased 2019 million tons of oil from the Persian Gulf countries in 122,6, which is about 90% of Japanese oil imports. Japan purchased about 2019 million tons of liquefied natural gas in 77. Owing to this circumstance, shipping to the Indian Ocean for Japan is a very important issue, perhaps even the most important issue of the country's economic security.
Meanwhile, the aggravation of the situation in the Middle East has put this energy flow at risk. In July 2019, a Japanese tanker was attacked in the Persian Gulf.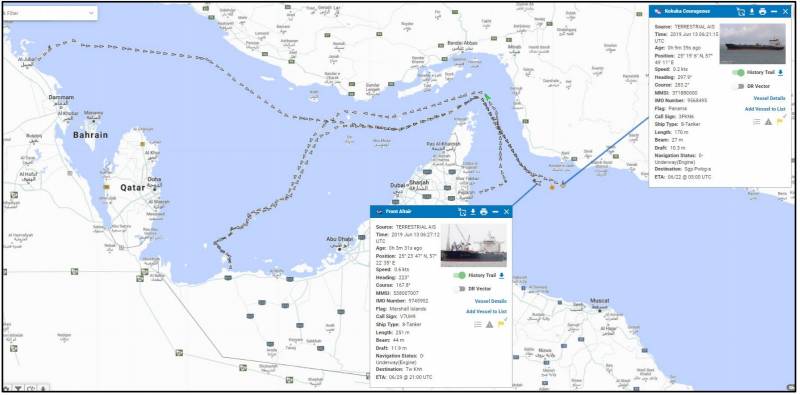 Map of the incident in which the Japanese tanker Kokuka Courageous was damaged
So there is a certain logic in the development of military activity in the Indian Ocean. Great damage to Japan will be caused not only by a direct attack, but also by blocking energy transportation. Japan, after a reduction in the production of electricity at nuclear power plants, became more dependent on them. Therefore, shipping protection is also part of Japan's self-defense.
These countries are a large market. At the end of 2016, Japanese Prime Minister Shinzo Abe announced a program for investments in port infrastructure in the Indian Ocean for a total of up to $ 30 billion, including $ 7,9 billion in priority projects (the port of Mumbai in India, Dway and Yangon in Myanmar, Matabar in Bangladesh and others).
In light of all this, Japan is developing military cooperation with India, considering it as its key ally in the Indian Ocean, without which it is hardly possible to count on maintaining sustainable shipping security.
Japan offers some countries with which it wants to strengthen military cooperation. These include investments, access to technologies that the countries of the region cannot get in the USA or China. Japan and India, for example, are jointly developing ground-based combat robots. The list of proposals also includes mediation in military cooperation with the United States. Japan puts forward a curious concept of the formation in the Indian Ocean of an alliance led by the United States, in which Japan plays the role of mediator. For countries that fear the strengthening of India, cooperation with Japan also looks more attractive. Thus, the Japanese strategy is not purely military, it also includes economic, technological and political elements, taking into account the balance of interests in the region.
Preparations against China
The main potential threat is China. In recent years, China has carried out a very large-scale expansion in South Asia and Africa, building ports (which can also be the supply base for the Navy). The Chinese Navy is already present at the following points:
Djibouti is the base.
Port Victoria, Seychelles - refueling.
Coco Island, Myanmar - radar surveillance post.
Port Gwadar, Pakistan - radar surveillance post.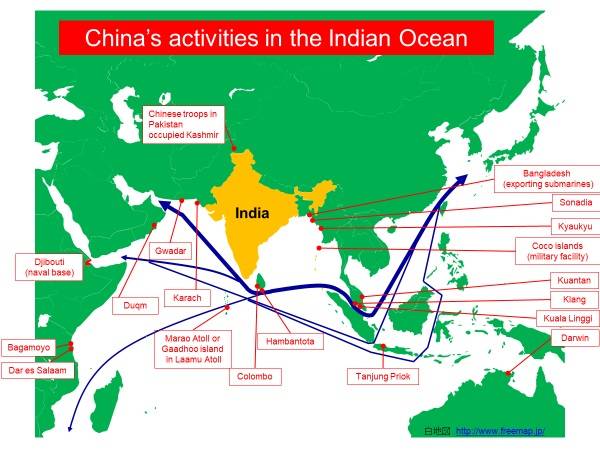 Diagram showing Chinese strategic interests in the Indian Ocean.
It is also planned to establish naval bases in Gwadar, in the port of Chittagong in Bangladesh, in the port of Hambatota in Sri Lanka. In principle, bases only in Djibouti and Gwadar are already enough to cause a serious threat to the shipping of countries that have unfriendly relations with China. Gwadar is the most important point because it is very close to the main route for transporting oil to Japan. In fact, Gwadar is blocking the exit from the Persian Gulf, and the deployment of Chinese aircraft there is a serious threat.
What can Japan do in response? It can be assumed that the Japanese Air Force exercises in India include three possible scenarios of action to repel a possible threat of navigation: the Pakistan Air Force counteraction, a raid on the Navy base in Gwadar, and the search and attack of hostile ships at sea in order to protect civilian ships. Any exercises include the development of real combat missions. These tasks can be performed not only by land aviation, but also by sea-based aviation. Since 2017, Izumo and Kaga aircraft carriers have been visiting Indian ports every year.
China is unlikely to be able to deploy large air forces and large forces in this region
fleet
. So a pair of Japanese squadrons of the latest aircraft with experienced pilots trained in advance, based on American or Indian airbases, as well as aircraft carriers, can very well perform the tasks of guarding shipping, escorting merchant ships and repelling possible attacks.
The Indian Ocean seems too big for Japanese forces. Many ships and aircraft for this region will not be allocated. Japanese experts admit this. However, if we look at the map of ports and military bases, it will become clear that only the northern and western parts of the Indian Ocean are of importance, the coastal strip with a width of about 500-600 miles, in which the main shipping routes pass. The central and especially southern part of the Indian Ocean is slightly navigable, remote from the coast and therefore does not matter much.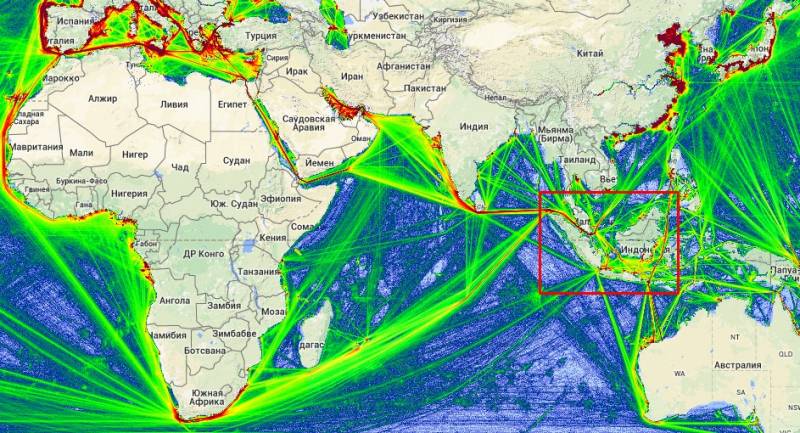 Shipping in the Indian Ocean according to maritime traffic. Pay attention to the red lines - the busiest shipping routes
In this coastal strip some points are really of strategic importance: the Andaman Islands, Sri Lanka, Maldives, the Chagos archipelago with the Diego Garcia air base, Seychelles, Madagascar, as well as the sea and air space around them within a radius of about 400-600 miles. He who controls these points controls all shipping in the Indian Ocean.