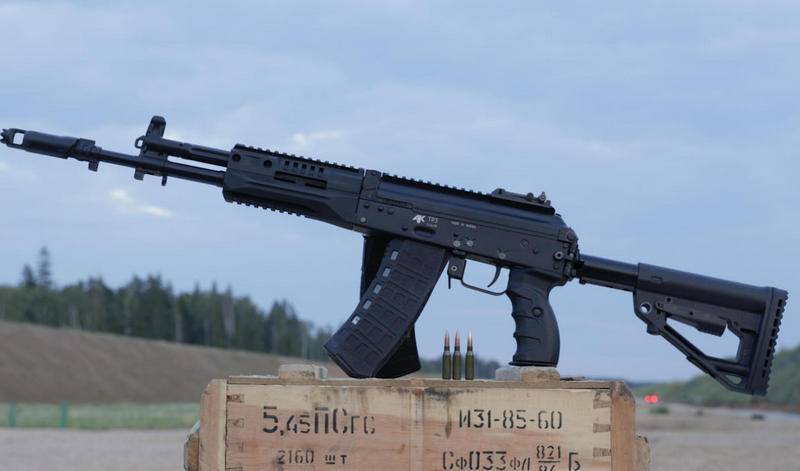 The Russian army received more than 35 thousand AK-12 assault rifles under the 2020 contract. This was announced by a representative of the state corporation "Rostec".
The Ministry of Defense has already delivered more than 35 thousand AK-12 assault rifles under a 2020 contract. This 5,45 mm caliber assault rifle is a promising individual rifle
weapon
the Russian army and other law enforcement agencies, with greater combat effectiveness, versatility, accuracy and accuracy of fire
- he said.
At the same time, it is noted that the 2020 contract in the framework of the state order for the supply of AK-12 was completed ahead of schedule, the Kalashnikov concern announced this on April 9 this year. Currently, the contract is already under implementation in 2021. Batch of new machine guns were delivered to the special forces brigades in Togliatti, Krasnodar Territory, Tambov Region, 6th Combined Arms Army of the Western Military District, 1st
tank
army, as well as other units.
Kalashnikov Concern began deliveries of a new AK-12 assault rifle to the Russian army in December 2018, when the Ministry of Defense received a batch of assault rifles in the amount of 2,5 thousand units. On the adoption of Kalashnikov assault rifles - AK-12 (5,45 mm caliber), AK-15 (7,62 mm), and V. Degtyarev plant - AEK-971 (5,45 mm), AEK -973 (7,62 mm), the military department officially reported in March 2019.
The Ministry of Defense said that in the troops AK-12 caliber 5,45-mm mainly replace the AK-74M. The machine gun was developed within the framework of the "Warrior" program and is included in it as one of the elements of the promising equipment complex of the Russian Armed Forces fighters. AK-12 adopted by all major arms of the military personnel of the combined-arms formations of the Ground Forces, the Airborne Forces and the Marine Corps.