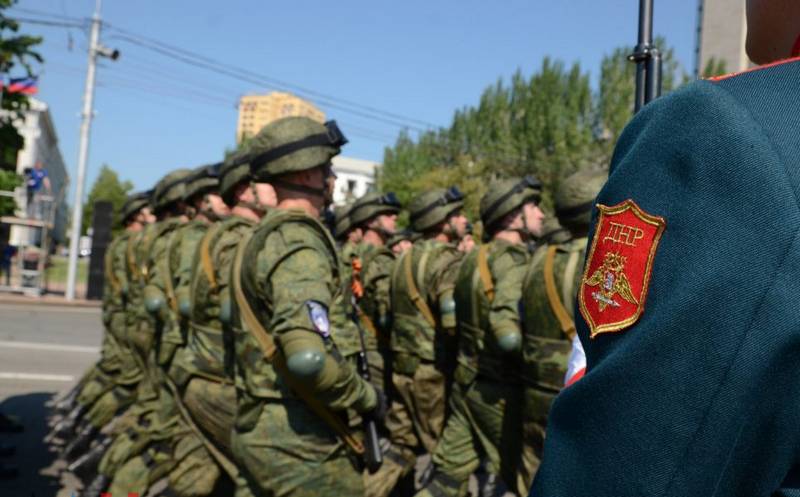 A military parade dedicated to the 75th anniversary of the Victory of the Soviet people in the Great Patriotic War was held in Donetsk. It is reported by the Donetsk Agency
News
.
About 2,5 thousand people and 110 pieces of equipment took part in the parade, which about tradition marched along the main street of the city - Artem Street - past the central Lenin Square.
The parade was hosted by the head of the DPR People's Police Department, Major General Denis Sinenkov, and the parade was commanded by Colonel Eduard Pelepenko.
The parade was opened by a famous group with standards of the Southern and Southwestern Fronts, whose soldiers liberated the Donbass from Nazi invaders. Following them proceeded on foot calculations in the Soviet form of the participants of the Second World War. Pupils of the Donetsk Military Lyceum named after G.T. Beregovoy, activists of the patriotic movement "Young Guard - Yunarmiya", military personnel of the People's Militia, employees of the Ministry of Emergencies, Ministry of Internal Affairs. In total, 22 parade crews passed along Artyom Street.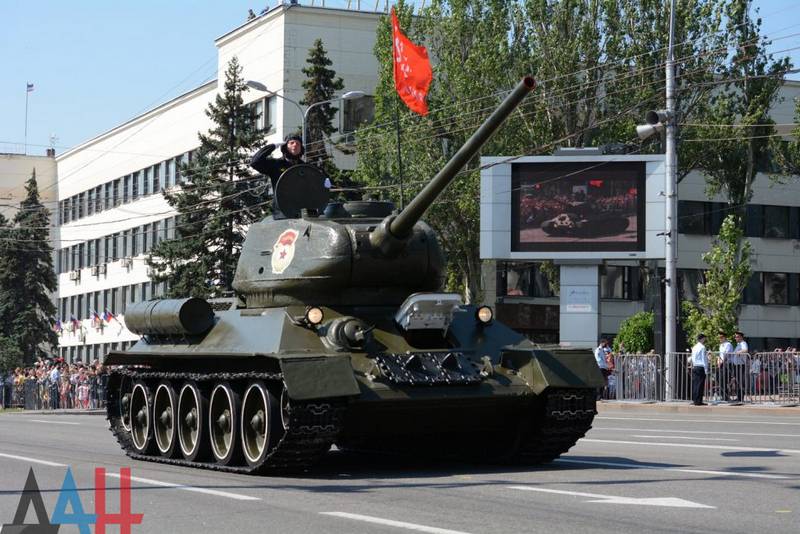 The mechanized column was led by the Soviet T-34 tank, which was located on the territory of the Saur-Mogila memorial complex. At the head of the convoy were also the Dnepr K-750 motorcycles of the reconnaissance and engineering units of the Red Army, the BM-13 Katyusha jet guards mortar and ZIS-5V trucks.
Also in the column were shown: BTR-80, ATVs Stealth, BMP-1 and BMP-2,
Tanks
T-72B, T-64, self-propelled howitzers "Gvozdika", "Nona", towed artillery - D-30, "Msta-B", as well as MLRS "Grad", mortars, anti-tank guns "Rapira", military off-road vehicles "UAZ" ", SAM" Strela-10 ", ZSU ZU-23-2. At the end of the column were shown trophy drones of the Armed Forces.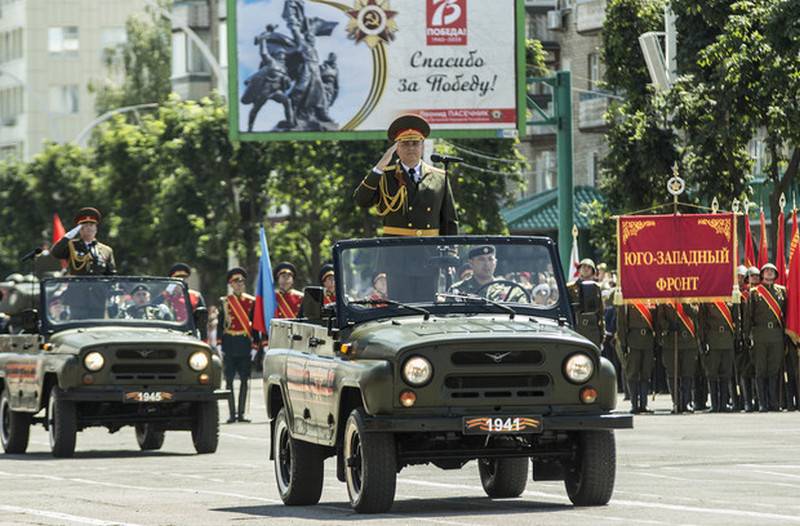 At the same time, in Lugansk, on Theater Square in the city center, a military parade was also held in honor of the 75th anniversary of the victory in the Great Patriotic War. It is reported by the Luganskinfocenter.
The parade involved more than two thousand personnel, more than 100 units of military equipment, 16 units of equipment from the Great Patriotic War.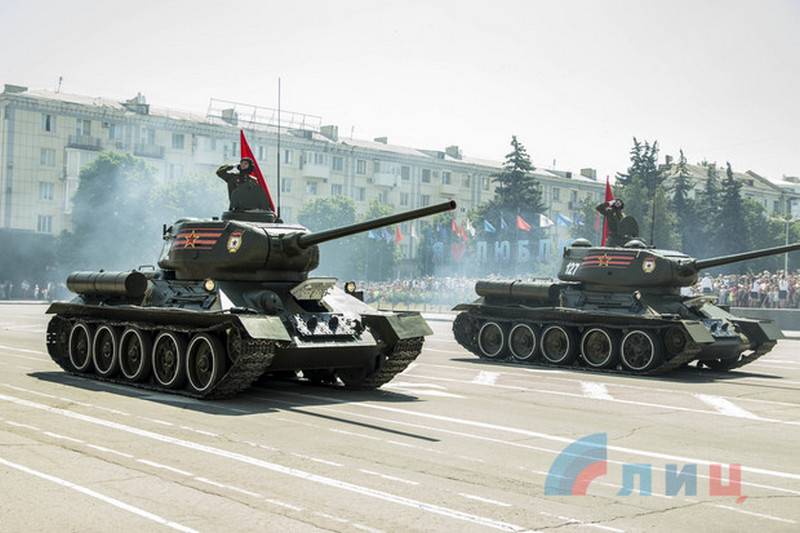 The parade was led by a convoy of three T-34 tanks, accompanied by military motorcycles from the Second World War. Tanks T-64, T-72, BMP-2, BTR-80, 152-mm self-propelled guns "Gvozdika", 122-mm howitzers 2A65 "Msta-B", 122-mm howitzers D-30, MLRS BM -21 Grad and 9K35 Strela-10 anti-aircraft missile systems. This year, parade presented reconnaissance unmanned aerial vehicles of the defense department of the Republic, as well as special equipment of various units of the LPR Ministry of Internal Affairs.